Colorado: Recreational Marijuana Stores Stocking Up For January Sales Debut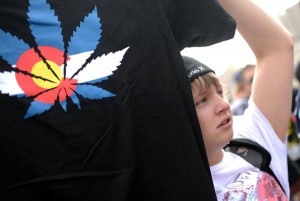 By Steve Elliott
Hemp News
The first state-licensed marijuana retailers in modern times will open on January 1 in Colorado, serving the state's cannabis users with a newly legal system instituted by Amendment 64, approved by voters last year.
Possession, cultivation and private use of marijuana by adults have already been legal in Colorado for more than a year under the new law, but the first marijuana retailers will finally open on New Year's Day, reports Keith Coffman atReuters.
Operators of the first eight cannabis retailers scheduled to open Wednesday morning in Denver, as well as a handful of stores in other cities, are anticipating a big demand for store-bought, legal weed.
"It will be like people waiting in line for tickets to a Pink Floyd concert," said Justin Jones, owner of Dank Colorado in Denver, who has run a medical marijuana dispensary for four years and now has a recreational pot retailer license.
"This is groundbreaking," said Mike Elliot, spokesman for the Medical Marijuana Industry Group of Colorado. "We are away ahead of Washington state, Amsterdam and Uruguay."
Washington state voters legalized marijuana for adults (although not cultivation) on the same day Colorado voters did so, but marijuana still isn't commercially available in the Evergreen State, and won't be for at least six more months, due to stifling bureaucratic regulations.
"It will actually be fully legal in Colorado, at least under state law, whereas in the Netherlands it's been tolerated, not actually legal," said Ethan Nadelmann, executive director of the Drug Policy Alliance (DPA), a pro-legalization group. "Colorado is essentially the first."
The medical marijuana system in Colorado, apparently unlike that in Washington state, will remain separate from the recreational pot system, since patients who buy medicinal cannabis won't have to pay additional taxes. Medical marijuana requires a physician's authorization, and medical dispensaries will be separate outlets from the recreational marijuana stores.
Adults 21 and older will be able to buy up to an ounce at licensed marijuana stores, as long as they have Colorado ID. Out-of-staters will be allowed to buy up to a quarter-ounce (7 grams). Adults can share up to an ounce of cannabis with a friend as long as no money is exchanged.
There are concerns that supplies will be sold out on the first day, or at least in the first few days. About 160 retailers statewide are still seeking a marijuana license.
No public pot smoking is allowed, and that includes in the pot shop or bars; private property is OK for toking up, with the owner's permission. Communities and counties can still decide to ban recreational marijuana stores in their jurisdictions, and a good many towns, including Colorado Springs and Greeley, have already banned them.
Motorists in Colorado can be ticketed for driving under the influence of marijuana if their blood shows more than 5 nanograms per milliliter (5 ng/ml) of active THC. Scientific studies haven't shown a correlation between 5 ng/ml and impairment, so it's possible that many unimpaired drivers will be charged.