Colorado: Stores May Run Out Of Weed When Legal Marijuana Sales Begin Jan. 1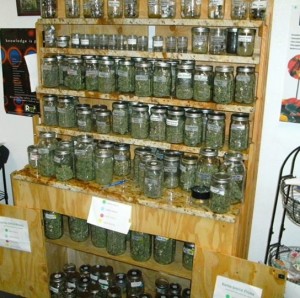 By Steve Elliott
Hemp News
Colorado voters last year approved Amendment 64, legalizing marijuana possession, cultivation and sales for those 21 and older. But when recreational pot stores open on January 1, 2014, they may run out of weed, according to many experts.
Although more than 100 stores have applied, complicated licensing rules and operational regulations may mean that only about a dozen pot stores could open on New Year's Day, reports CBS News.
"We are definitely going to run out of cannabis," said Toni Fox, owner of Denver's Discreet Dispensary, reports Gabrielle Karol at Fox Business. "The question is when."
Fox expects to get clearance to open on January 1, and estimates her stock will be depleted by January 6. She expects to sell to at least 100 customers a day.
"We're anticipating $300,000 in revenue in January," she said.
Although Coloradans approved recreational marijuana legalization, about 70 cities across the state have banned pot shops. Cities not allowing recreational marijuana stores include Colorado Springs, the second-largest city in the state.
People there are worried that marijuana stores would scare away new companies, according to Joe Raso of the Colorado Springs chamber of commerce. "We do not look positively towards retail sales and the manufacture and cultivation of marijuana, even though as a state we allow our citizens to smoke it recreationally."
Sounds as if Colorado Springs isn't very interested in tourist dollars.
"I think more problems are caused by elected officials and regulators overdoing it, than by the actual businesses and products," said Mason Tvert of the Marijuana Policy Project.
(Photo: Westword)