Colorado, Washington Governors Ask Feds To Allow Marijuana Banking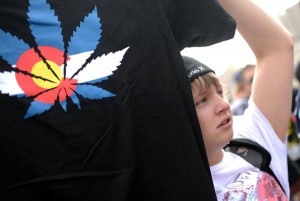 By Steve Elliott
Hemp News
The governors of Colorado and Washington on Wednesday asked the federal government to change bank regulations to allow marijuana businesses to do banking, and to allow the states to continue implementing voter-approved cannabis legalization.
In a letter to federal banking regulators, Colorado Gov. John Hickenlooper and Washington Gov. Jay Inslee called access to the banking system "a necessary component in ensuring a highly regulated marijuana system that will accurately track funds, prevent criminal involvement, and promote public safety," reports John Ingold at The Denver Post.
"Our states will soon be licensing hundreds of retail stores, each of which will, without a normal banking relationship, be forced to conduct business on an all-cash basis," the governors' letter states. "This creates an unnecessary inviting target for criminal activity."
Banks have been reluctant to cater to marijuana-related businesses, fearing they'd fall afoul of federal money laundering and conspiracy laws. But last month, a Department of Justice memo lessened the threat of criminal prosecution against state-legal marijuana businesses that follow the rules. Inslee and Hickenlooper wrote in their letter than the Justice Department showed "bold leadership" with that memo.
Marijuana is still considered a Schedule I controlled substance under federal law, the most restrictive classification possible.
In testimony before a U.S. Senate committee, Deputy Attorney General James Cole said federal banking officials were working on a solution to the problem, reports Ingold at The Denver Post.
The letter was sent to Jacob Lew, Secretary of the Treasury; Ben Bernanke, Chairman of the Board of Governors of the Federal Reserve; Martin Gruenberg, Chairman of the Federal Deposit Insurance Corporation; Thomas Curry, Comptroller of the Currency in the Office of the Comptroller of the Currency; Richard Cordray, Director of the Consumer Financial Protection Bureau; and Debbie Matz, Chairman of the National Credit Union Administration.
(Photo: Hyoung Chang, The Denver Post)