United States: Longest Serving Non-Violent Federal Marijuana Prisoner Continues Life of Activism
By Ms. Sylence Dogood, Hemp News Correspondent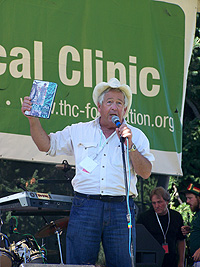 Pitchman, businessman, and world traveler, Robert Platshorn, aka Bobby Tuna, has also served more federal time than any other non-violent marijuana inmate, having spent 28 years in federal prison. Platshorn has compiled his memoirs into his book, The Black Tuna Diaries, in which he tells his life story intermingled with his story of smuggling marijuana.
The book itself reads more like an adventure story than a collection of memoirs. Readers must remember that this is a true story, and not a fictitious compilation about bringing Columbia's 'Santa Maria Gold' marijuana to America.
Woven through the smuggling tale is the story of Platshorn's life as a boy in Philadelphia, growing up with the South Street Gang, on to the pitches on the boardwalk of Atlantic City, and the energy that pulsed through his life and propelled him in many business endeavors in the United States and abroad, legally and illegally.
The gift of gab has blessed Platshorn, and throughout his life he has been an actor and pitchman, spokesperson and dealmaker. From selling ice cream from a push cart on a New York City streetcorner to talking his way out of an encounter with a firing squad in South America, the story of the Black Tuna from childhood to present day, post-prison, weaves an amazing tapestry with unbelievable tales of planes, boats and encounters with the law.
Recently, there was a documentary released by the creators of Cocaine Cowboys called Square Grouper: the Godfathers of Ganja. The movie is inspired by Platshorn's memoir.
Platshorn and most of the surviving Black Tunas are featured in this full length feature film. The Square Grouper world premier was held at the Vimeo Theater at SXSW Film Conference and Festival.
"I've waited for this since I left prison over two years ago when the producers at Rakontur decided to base a movie on my memoir, Black Tuna Diaries," stated Platshorn.
MovingPicturesNetwork.com recently reviewed the film and said, "The facts and footage are incredible, and while it lacks the more dangerous nature of the cocaine trade, the film feels more entertaining as a result and is, naturally, accessible to a wider audience. That former FBI agents can chat with what seems to be joyous reminiscence about how the industry unfolded and that the players/storytellers seem reasonably relaxed given their recollections is perhaps indicative of the more liberal attitudes toward this substance today."
One of Platshorn's recent projects is giving presentations for the NORML/High Times Silver Tour. The Silver Tour goal is to educate seniors on the benefits of cannabis as a viable and accepted medicine. This educational speaking tour has brought the knowledge of the benefits of marijuana as a medically viable alternative to pharmaceuticals to a wider audience, and possibly the audience that could most benefit from marijuana's many medicinal applications.
Platshorn does not seem bitter about his past or the way his path in life has gone. He projects an infectious optimism for what the future holds for himself and the marijuana legalization movement. In an interview he recently shared "I'm a lucky guy. Why should I look back and be bitter, I can look forward and know that I'm 68 but I'm gonna enjoy what time I can."
Hemp News feels Robert Platshorn is a pillar within our community; please help him in his future endeavors any way you can.
Learn more about The Black Tuna Diaries: http://www.blacktunadiaries.com
Learn more about Square Grouper: http://www.squaregroupermovie.com
Learn more about Robert Platshorn's Silver Tour: http://www.thesilvertour.org



Source: http://www.movingpicturesnetwork.com/24173/%E2%80%98square-grouper-the-g...