Oregon: Earl Blumenauer - The Marijuana Initiative Process, The Decade of Decision
By Michael Bachara, Hemp News Correspondent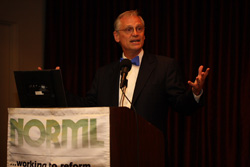 Since 1973, when Earl Blumenauer first voted for legislation that successfully decriminalized marijuana in Oregon, he has been a supporter of a reasonable approach to marijuana regulation.
While he feels there are still many questions about the effects of marijuana use, he believes that this is an issue best left to the states. Blumenauer strongly supports the initiative process and encourages people to push forward in this process of changing the law.
"I suspect that doing your job right, engaging people in this debate, in this discussion, looking at the facts, trying to bring people together in a thoughtful non-hysterical way, letting the evidence speak for itself...I suspect this will be your decade of decision," Blumenauer proclaimed at the 2010 National Organization for the Reform of Marijuana Law's (NORML) Conference at the Governor Hotel in Portland.
After so many years working for the people of Oregon, Blumenauer has seen the evidence of our failed war on drugs, and feels that a re-examination of the way we handle marijuana and hemp would be greatly beneficial. Oregon has the potential to lead the way forward to a better future through regulation rather than prohibition.


Bio: A lifelong resident of Portland, Oregon, Congressman Earl Blumenauer (OR-3) has devoted his entire career to public service.
While a student at Lewis and Clark College, he spearheaded the effort to lower the voting age both in Oregon and at the national level. He was elected to the Oregon Legislature in 1972, where he served three terms and Chaired the House Education and Revenue Committee in 1977-78. In 1978, he was elected to the Multnomah County Commission, where he served for eight years before being elected to the Portland City Council in 1986.
Elected to the US House of Representatives in 1996, Mr. Blumenauer has created a unique role as Congress' chief spokesperson for Livable Communities: places where people are safe, healthy and economically secure. He is currently a member of the Ways and Means Committee and the Budget Committee.
Congressman Blumenauer's academic training includes undergraduate and law degrees from Lewis and Clark College in Portland.


Bio Source: http://blumenauer.house.gov/
Photo Source: http://www.flickr.com/photos/12910591@N04/