Georgia: Family Fights For Medical Marijuana Law For 4-Year-Old Daughter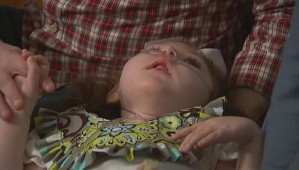 By Steve Elliott
Hemp News
A Georgia family is fighting for access to a type of oil derived from marijuana to help their four-year-old daughter treat a disorder that causes up to 100 seizures a day.
Brian and Janea Cox want their daughter Haleigh to try a compound made from "a special kind of marijuana that's high in CBD (cannabidiol) that helps the brain, and low in THC," (tetrahydrocannabinol), the primary psychoactive compound in cannabis, reports Maggie Lee at The Telegraph.
Janea Cox said her daughter is on benzodiazepines and opiates that make her sleep 18 hours a day, but can't get the cannabis oil that could help her the most, reports Lori Geary at WSB-TV. Children in Colorado with similar disorders have seen amazing results after being treated with cannabis oil, which is legal there, she said.
"It's good to see people are opening their eyes," Janea said. "Hundreds of kids die every day because of seizures. I don't want her to be one of those kids. So, I'm going to constantly fight."
Back in 1980, the Georgia Legislature created the Controlled Substances Therapeutic Research Program, setting up a process for doctors to investigate the effects of marijuana on patients with glaucoma and other conditions. But that program was unworkable as written; it never attracted any researchers or patients.
"We're been trying for years to get the Legislature to study this issue," said James Bell, executive director of a group called Georgia CARE, the Campaign for Access, Reform and Education.
The medical marijuana issue heated up in Georgia earlier this month when Rep. Allen Peake, a Republican state senator from Macon, said he's going to take the lead on the subject in Georgia. "I'm an unlikely champion of this, but this has affected me more than anything else in eight years here," he said after meeting with the Coxes.
"If it was my child, my grandchild, I'd be crawling over broken glass to make sure this legislation gets passed," Rep. Peake said. So far, a bill hasn't been introduced in the Legislature.
"The easy answer right now is, 'Let's study for a year, let's form a committee,'" Peake said, adding, "Some of these kids don't have a year."
"Once someone says something, it seems like it's OK to say it," Bell said. "It's been such a taboo issue." Bell said Georgia CARE is ready to send doctors and medical marijuana patients when the Legislature wants to call hearings, either formal or informal.
"I think we've got dozens more (lawmakers) who are wanting to educate themselves more," said Bell, who added he wished the legislation had already been passed. Georgia-grown cannabis could be ready for patients 100 days after growers get an all-clear, according to Bell.
(Photo of 4-year-old Haleigh Cox: WSB-TV)