Oregon: Global Cannabis March to be Held in Portland this Weekend
Download & Print GCMXIII Poster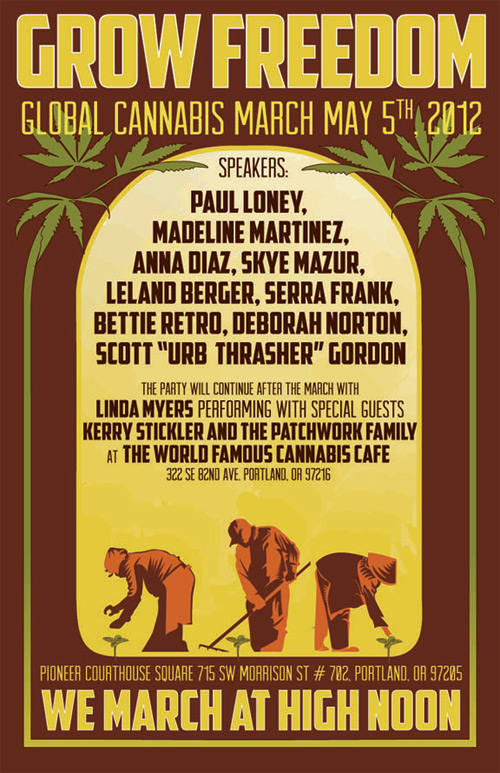 By Michael Bachara, Hemp News Correspondent/Oregon NORML
Photo by LK, Hemp News Correspondent/Oregon NORML
Over two hundred cities world wide join Portland for the Global Cannabis March on Saturday, May 5, 2012. Proponents will assemble in Pioneer Courthouse Square to march at "High Noon" through downtown Portland (Map Below), accompanied by a police escort.
Scott Gordon, Hemp Director for Oregon NORML reports, "We are looking for at least 3,000 people to show up and flex their rights. Anything less than that is unacceptable."
"Polls show that fifty percent of Americans agree that it is time to end cannabis prohibition. We need your support; come and be a part of the Global Cannabis March," is the call to action from Madeline Martinez, Executive Director of Oregon NORML.
Speakers for the rally immediately following the march include Martinez, Paul Loney and Anna Diaz who are members of the board of Oregon NORML along with attorney Leland Berger and Scott Gordon from NORML Rocks.
Oregon Medical Marijuana Program (OMMP) cardholders are invited to the World Famous Cannabis Cafe to celebrate the thirteenth anniversary of the Oregon Medical Marijuana Act (OMMA) after the rally. Come out and join the fight for equality in Portland's living room for what has become a staple of our local culture, the Global Cannabis March.
Voter registration and educational information will be available to the public. For more details, please contact Oregon NORML at (503)239-6110 or visit their website at www.ornorml.org.