Wisconsin: Hemp as an Energy Source in 1917
The photo below show the company's employees, mostly area farmers in 1917. The company owner is pictured in the back row at the far right.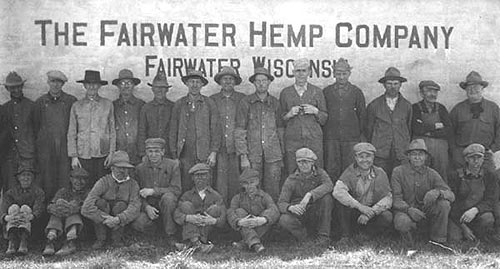 By Michael Bachara, Hemp News Correspondent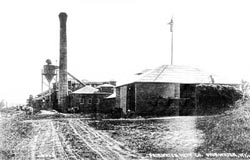 Established in 1916, the Fairwater Hemp Company was one of the upper midwest's largest hemp producers. It was located adjacent to the booming railroad line and also to the west of the north fork of the Grand River, making it convenient for the production of electricity to power their manufacturing plant. The community of Fairwater, which was founded around the water power of the river in 1848, was officially incorporated in 1921.
In 1917, Fairwater Hemp began using industrial hemp as electrical energy when the river was low by burning the byproducts of their hemp rope manufacture, hemp hurds, to drive a steam engine to produce electricity. This instance is the first documented use of hemp as an energy source.
Although Fairwater hemp operations ceased in 1931, the number of things that can be made from hemp continues to grow today. The possibilities for the plant are endless job producers for those who wish to be innovative. It is this writers opinion, we must re-introduce this agricultural crop to our society, now more than ever.
Map: http://maps.google.com/maps?ll=43.741848,-88.872394&spn=0.002232,0.00363...
Fairwater Hemp Company Employees, 1917
Source: Miller Family Album
http://www.wlhn.org/fond_du_lac/communities/fairwater/collections/images...
Fairwater Hemp Company
Photo courtesy: Winton and Cirena Lenz, date unknown)
http://www.wlhn.org/fond_du_lac/communities/fairwater/gallery/fw_fwhempc...