Hempstalk Is Coming To Portland September 7-8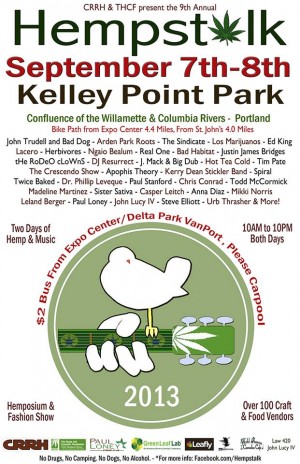 By Steve Elliott
Hemp News
Portland Hempstalk, one of the best loved cannabis festivals in the Pacific Northwest, is scheduled for September 7 and 8 at Kelley Point Park, at the confluence of the Willamette & Columbia Rivers in Oregon.
Hempstalk is in a bucolic, rural setting just outside the city; Kelley Point Park is quite secluded, and attendees must traverse trails to get to the event itself, but golf carts run a constant shuttle service between the gate and the event.
One striking thing about Hempstalk is the degree of enthusiasm shown by those who have attended; if they've ever been one time, folks plan to go back.
"Hempstalk is awesome," Seattle activist Jared Allaway, known for giving out "Marijuana Is Safer Than Alcohol" t-shirts, told Hemp News. "They have a great location on the water with multiple stages for entertainment, great vendors, and great info debates. The hospitality is awesome!"
Another prominent Seattle activist, Renae Ely, agreed; 2012 was her first experience with Hempstalk. "Coming shortly after the mind-blowing hugeness that is Seattle Hempfest, I wasn't sure just what to expect," Ely told us. "After a long and leisurely stroll into Kelley Point Park, I was pleasantly surprised to find a sizable (yet not overwhelming) hemp and cannabis event happening!
"Kelley Point Park seems an ideal setting for such an event," Ely pointed out. "The main area is well laid out and it was easy to find my way around. It's also easy to find a beautiful, comfortable place to get some 'alone time' when you find you need a break from the stream of people around you.
"There's a great mix of education, activism, music and other entertainment to keep your mind occupied and your feet moving," Renae said. "I even felt comfortable enough to take a quick nap in the park during the event.
"My only concern with Hempstalk is that, for those of us with non-obvious mobility issues, the long walk in and out of the park can be a bit daunting," Ely said. "This year I hope to be more savvy as to how I will handle that issue; the Hempstalk experience was well worth the walk into the park.
"I enjoyed the festival so much that I have planned my September engagements around Hempstalk weekend to ensure that nothing will be able to keep me from attending again this year," Renae told us.
"Hempstalk is more picturesque," attendee Jerry Haskins told us. "I got the sense that people were getting more out of the speakers than at other events I've been to. The music was great, and great speakers!"
"Hempstalk is about the many uses of agricultural hemp fiber, oil, protein, fuel and medicine," event founder Paul Stanford of the Campaign for the Restoration and Regulation of Hemp (CRRH) said. "We are working to end adult cannabis prohibition, allow adults to grow their own and license the legal sale of psychoactive cannabis to adults.
"We believe that hemp will save the Earth's biosphere with the adoption of hemp seed for biodiesel fuel, which will solve the energy and world hunger problems, and stop deforestation where hemp fiber is used for paper and building materials," Stanford said. "We shall overcome!"
A diverse slate of cannabis-friendly musical acts are scheduled to perform, including John Trudell and Bad Dog, Arden Park Roots, The Sindicate, Los Marijuanos, Human, Real One, Bad Habitat, Justin James Bridges, and DJ Resurrect.
Scheduled speakers include founder Paul Stanford; Oregon NORML's Madeline Martinez; Chris Conrad; Todd McCormick; Dr. Philip Leveque; Julia, curator of the Peter McWilliams Tribute page and PeterMcWilliams.org; and Hemp News/Toke Signals editor Steve Elliott.
More than 100 craft and food vendors will be on hand; don't miss the Hemposium educational/informational panels and the popular Hempstalk Fashion Show, bigger and better than ever this year.
Hempstalk 2013 runs from 10 a.m. to 9 p.m. on Saturday, September 7, and from 10 to 8 on Sunday, September 8. The event is free to attendees of all ages; more than 40,000 people are expected to attend.
Julia, a traumatic brain injury survivor who is curator of the Peter McWilliams Tribute page on Facebook, runs PeterMcWilliams.org and works tirelessly to keep alive the memory of poet/author/medical marijuana activist McWilliams, has attended and spoken at the event, and she perhaps nailed it best when it comes to Hempstalk's "vibe."
"You know those moments when you feel as though you have finally come home? Portland Hempstalk feels like such a place," she told us. "I can't wait to be surrounded by a cathedral of leaves, and to be embraced by such a caring community – to absorb all the sunlight I can, and to absorb all the information I can about cannabis and about our world.
"The Stanfords – who run the event – always had time for me, no matter how busy things go," Julia said. "Not everyone understands stage fright, but Mrs. Stanford, whom I have since dubbed my 'Aunt Theresa," understands it perfectly. She walked onstage and stayed there, silently, sweetly supportive as I spoke.
"I wonder: How can there be warmth within such a chill atmosphere?" Julia mused. "The audience is so relaxed yet always ready to receive the message the activists give. As I spoke I felt the warmest chill creep down my spine! I really felt the spirit of Peter McWilliams among the attentive audience.
"If you come to Portland Hempstalk, if you close your eyes and listen, you just might feel the spirits of Jack Herer and Peter McWilliams surround you," Julia said. "You won't have to listen really hard, though; their spirits can be felt among the rustling leaves, beckoning breezes and among every new friend you will meet as you are welcomed back home."
For more information about Hempstalk 2013, visit http://www.hempstalk.org/. You can also visit the Hempstalk Facebook page.