Illinois: Chicago Hospital Wants To Sell Medical Marijuana, But Stymied By Federal Law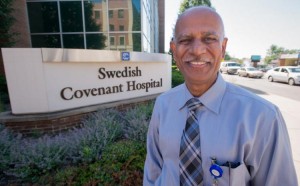 By Steve Elliott
Hemp News
If officials at Chicago's Swedish Covenant Hospital get their wish, authorized medical marijuana patients could one day buy their cannabis at a hospital dispensary, just like patients buying antibiotics or pain relievers at the hospital's pharmacy.
"We have professionals who very much would like to prescribe these drugs, we have the system in place to manage it and we have the patient population that needs it," said Marcia Jimenez, director of intergovernmental affairs at Swedish Covenant Hospital, reports Becky Schlikerman at the Chicago Sun Times. "It just made a lot of sense."
The hospital would like to be the first in Illinois to take advantage of the legalization of marijuana for medicinal purposes in the state. Illinois has agreed to issue 60 permits to sell medical marijuana, 13 of which will be in Chicago.
Swedish Covenant would really like one of those, but is hamstrung by federal law, under which marijuana is illegal for any purpose, classified as a dangerous Schedule I controlled substance with no medical uses.
"If the hospital were to become a dispensary at this point, we would be violating the federal law and jeopardizing reimbursements for Medicare and Medicaid, Jimenez said. Hospital administrators are also worried they could be targeted for "criminal activity" and get in tax trouble with the Internal Revenue Service.
"It's not something the hospital could risk and still stay financially viable," Jimenez said. "So we're outspoken about it. We think hospitals are the best choice for dispensing [marijuana]. Unless someone speaks up, we're not going to be able to change the federal law."
No hospital in any of the 23 medical marijuana states, nor in Washington, D.C., has ever sold any marijuana, according to Chris Lindsey, legislative analyst for the Marijuana Policy Project.
Swedish Covenant oncologist Jeffrey Cilley said doctors there are interested in using medical marijuana with their cancer patients to deal with pain, nausea and anxiety. "There's an incredible interest from a lot of patients," Cilley said. "I've had patients that have traveled out of state to try to experiment and see."
If Swedish Covenant ever opens a medical marijuana dispensary, it would be inside an existing pharmacy on California Avenue, according to Ramesh Patel, director of pharmacy services at the hospital.
"What can be more secure than what we are doing right now?" Patel said. "We are already dispensing opioids and all kinds of narcotics."
Swedish Covenant boss Mark Newton acknowledged marijuana is also a money-making opportunity. "We have to find ways of getting out and in front of issues and really looking at opportunities where we can stay on track and on par with what the consumer is looking for," Newton said.
Illinois requires that marijuana dispensaries be at 1,000 feet from schools, playgrounds, child care centers, public parks, or libraries. Swedish Covenant abuts a school, but Newton has asked the state to exempt hospitals from that requirement.
Photo of Ramesh Patel of Swedish Covenant Hospital: Peter Holderness/Sun-Times Media