Illinois: Chicago Medical Marijuana Authorization Clinic Flooded With Calls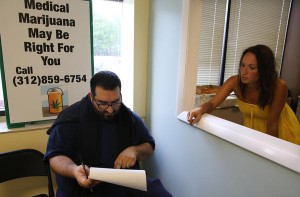 By Steve Elliott
Hemp News
Chicago medical marijuana authorization clinic Good Intentions has been deluged with phone calls -- 20,000 calls in just two months. Open since August 7, they immediately found that Illinois residents are more than ready for medicinal cannabis, according to president Tammy Jacobi.
Governor Pat Quinn last summer signed a bill allowing people with one of 42 qualifying conditions (including HIV, AIDS, cancer and other diseases) to legally possess and use marijuana starting in January, reports CBS Chicago.
Jacobi, who said she's run a similar clinic in Michigan for a couple of years, said people have been waiting a very long time safe access to medical marijuana. But patients will have to exercise, well, patience; they won't be able to get their state-issued medical marijuana cards for a bit longer.
"We have to follow the rules, and as much as we'd like to move this program along as quickly as we can to help some of these patients who are going to pass away before it takes effect," Jacobi said.
Good Intentions isn't a marijuana dispensary; it will sell no cannabis, but doctors there will provide medical marijuana authorizations for a fee of $99 to patients with qualifying conditions.
(Photo of Good Intentions president Tammy Jacobi helping a patient: Antonio Perez/Chicago Tribune)