Illinois: Chicago Police Still Making Marijuana Arrests, Despite New Law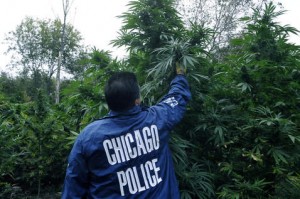 By Steve Elliott
Hemp News
Surprise, surprise: Give cops the option to bust you, or not, for pot, and they will still bust you. Chicago police continue to arrest almost all people caught with small amounts of marijuana -- despite a city ordinance that allows them to write tickets and avoid the arrest, according to a new study.
When the ordinance was first passed in 2012, supporters -- including Mayor Rahm Emanuel and Police Superintendent Garry McCarthy -- claimed it would enable officers to issue tickets and stay on the street, rather than go through the time-consuming process of hauling pot offenders to jail.
But apparently the police enjoy that process -- or else, they really dislike marijuana users.
About 93 percent of misdemeanor marijuana possession cases resulted in arrests by the Chicago Police Department in 2013, the first full year the decrim ordinance was in effect after being passed in 2012, according to the study from Roosevelt University's Illinois Consortium on Drug Policy, reports the Associated Press.
Police spokesman Adam Collins lamely claimed the percentage of people receiving tickets instead of being arrested "would climb in the future," reports Becky Schlikerman at the Chicago Sun-Times. Collins claimed the "CPD is continuing to make progress" in implementing the city ordinance.
"Like any new process, it has taken time to implement the ordinance, and we believe there's certainly much more work to be done on full implementation," Collins bullshitted. (It's not rocket science, folks: If police officers don't want to arrest people for possessing small amounts of marijuana, they don't have to anymore -- but they still do, because they can.)
Reserarchers in the study analyzed the "pre- and post-ordinance implementation arresting patterns" and discovered "Chicago had the smallest decrease in arrests, with arrests declining by only 21 percent."
An analysis of Evanston's implementation of its ticketing ordinance, by way of contrast with Chicago, found arrests for small amounts of marijuana fell by almost 50 percent there. Evanston police have issued 55 tickets and arrested 29 people for small amounts of cannabis so far this year, according to Police Commander Jay Parrott. Last year police there issued 261 tickets and charged 115 people with possession.
"More often than not a ticket is the appropriate response," Parrott said.
"There is a gap between what the policy is, what front line police officers are doing and have been trained to do," said Kathie Kane-Willis, director of the Illinois Consortium on Drug Policy, reports Jessica D'Onofrio at WLS. "Where the rubber hits the road is the practice, and there's a really big disconnect between the policy and the practice."
"The majority of the country supports a legalization plan for the country," said Cook County Commissioner John Fritchey. "All we can do is worry about Illinois and we need to start taking steps in the right direction."
The study, "Patchwork Policy: An evaluation of arrests and tickets for marijuana misdemeanors in Illinois," was released on Monday.