Illinois: Elected Officials Say It's Time To Legalize Marijuana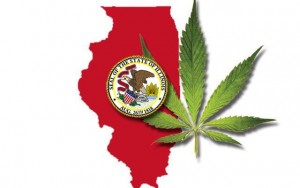 By Steve Elliott
Hemp News
A group of elected officials at a Monday press conference in downtown Chicago said it's time to legalize marijuana in Illinois.
Four Democrats from the Chicago area held the media event at the Cook County building, calling for the state to immediately decriminalize marijuana, and eventually to legalize its recreational use by adults, reports Brian Slodysko at the Chicago Sun-Times.
"The main difference between the War on Drugs and Prohibition is that, after 40 years, this country still hasn't acknowledged that the War on Drugs is a failure," said Cook County Commissioner John Fritchey.
Chicago-area state representatives Mike Zalewski, Kelly Cassidy and Christian Mitchell appeared at the press conference along with Fritchey.
Illinois law has already changed to allow the medicinal use of cannabis with a doctor's authorization; the state still drafting the rules for its medical marijuana program, described as one of the strictest in the nation.
Backers of the legalization effort cite statistics showing that marijuana prohibition targets racial minorities, because whites are not arrested at the same rates for the same crime.
"Marijuana usage among racial categories is essentially the same," Fritchey said. "The disparity in Chicago and Cook County is overwhelmingly disproportionate toward African-Americans and Latinos being arrested for simple possession."
"You'll see people getting swept off the streets on a daily basis on the South Side and West Side," Fritchey said. "You don't see kids getting arrested in Lincoln Park."
"We can find a way to do this and look at what other states have done, and cherry pick the good ideas, dismiss the bad ideas and find a workable policy that recognizes what we're doing now simply isn't right," said Fritchey, reports Susie An at WBEZ.
During the press conference, the lawmakers were asked if they'd try marijuana themselves if it were legalized. After some nervous laughter, Fritchey said a hesitation to answer the question shows the topic needs more discussion, because people aren't yet comfortable talking about it.
There isn't yet a bill in the Legislature that would legalize marijuana; such a change is still likely a ways off, the group admitted. The four elected officials did, however, call on fellow Democrats in the General Assembly to appoint a task force to study the issue. Rep. Robyn Gebel (D-Evanston) in February introduced a bill which directs the state to study recreational marijuana; it now sits in a committee.
Illinois doesn't have as good a referendum process as do Colorado and Washington, where voters chose to legalize cannabis back in 2012, so action by the Legislature would be required, proponents said.
State and local governments could tax legalized marijuana sales, delivering budget money at a time when many municipalities are struggling to find new sources of revenue.
But predictably, the Illinois Association of Chiefs of Police opposes any such change.
"We have a problem with driving under the influence on our highways and this is going to make it much, much worse," claimed John Kennedy, executive director for the Illinois Association of Chiefs of Police. Statistics don't support Kennedy's claim; science shows traffic fatalities fall in states which legalize medical marijuana, for instance.
Kennedy also claimed that pot "leads to harder drugs," another Reefer Madness era myth that's since been disproved by science.
But despite the intransigence of law enforcement -- after all, they don't want to lose those fat federal anti-marijuana "drug task force" grants! -- backers said popular sentiment is swinging to their side.
"Public opinion moves much more quickly than legislators' [opinions]," said Rep. Cassidy. If marijuana is decriminalized, she said, "the sky won't fall."