Illinois: First Medical Marijuana Clinic Opens - It's Not A Dispensary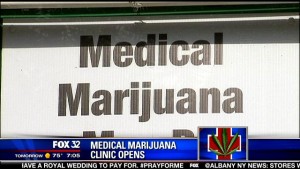 By Steve Elliott
Hemp News
Less than a week after Gov. Pat Quinn signed into law House Bill 1, a measure legalizing medical marijuana in Illinois, he first medical marijuana clinic in the state has opened in the Chicago area. But the Good Intentions LLC, in Wicker Park, isn't a dispensary; patients can't actually get medical marijuana there.
The clinic, owned by former registered nurse Tammy Jacobi, who ran a similar clinic in Saugatuck, Michigan, opened for the purpose of providing medical marijuana authorizations from physicians for patients who need them, reports Pauli Mayfield at WQAD.
Good Intentions accepted its first patients at 10 a.m. on Wednesday, reports The Huffington Post. By mid-morning, more than 30 patients had already visited, reports DNAinfo Chicago.
Patients paid a nonrefundable $99 registration fee by cash or check only; Good Intentions does not accept insurance. A doctor will review applications and call applicants back within six to eight weeks, according to Good Intentions spokesman Daniel Reid, reports Alisa Hauser at DNAinfo Chicago.
"We want to establish a relationship between the doctor and the patient, especially those patients that don't have a primary doctor or have a doctor that is not comfortable with signing the recommendation," Jacobi said.
Illinois' medical marijuana law requires that medical marijuana patients have an "existing relationship" with their authorizing physician.
Because rules for the "prior relationship" with the doctor who authorizes a patient for medical marijuana haven't been established yet, nobody can say whether what's going on at Good Intentions would qualify as a prior relationship when the law goes into effect next year, according to Susan Hofer, spokeswoman for the Illinois Department of Financial and Professional Regulation, reports Michelle Manchir at the Chicago Tribune.
"We'll be informing people about the Illinois medical marijuana program," Jacobi told My Fox Chicago. "We're encouraging patients to contact primary doctors first but we want people to know that we're here, they can talk to us, find out if medical marijuana may be right for them."
Under Illinois law, Good Intentions can't dispense marijuana, though patients can get an authorization card from them. The card can be used at one of about 60 state-registered medical marijuana dispensaries which will eventually open statewide after January 1, 2014.
It will take a lot more to open an actual dispensary which sells marijuana to patients, according to Rock Island County State's Attorney John McGehee.
"There is a difference between a dispensary and a clinic," McGehee said. "A dispensary is going to have to go through the Department of Financial and Professional Regulations and those rules haven't even been created yet by the department," he said, his deep love of bureaucracy shining through.
The screening process for dispensary operators is still up in the air, according to McGehee. "There are a lot of questions that still remain," he said.
"As chief law enforcement officer in this county, I do have concerns as it relates to who is going to get a license," McGehee said. "We will be in constant communication with law enforcement as well to make sure that it is being done correctly.
License application fees to open a medical marijuana dispensary in Illinois could be as much as $50,000.
Chicago News and Weather | FOX 32 News
(Photo: My Fox Chicago)