Illinois: Governor's Decision Looming On Medical Marijuana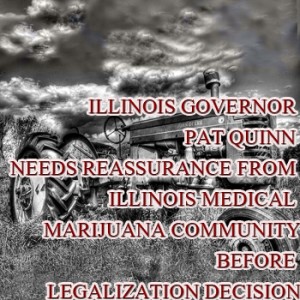 By Steve Elliott
Hemp News
Seriously ill patients in Illinois might be able to use medical marijuana in less than two weeks, if the hopes of supporters come true and Governor Pat Quinn signs a bill legalizing cannabis for medicinal use.
Improving the lives of the chronically ill is how supporters convinced Illinois lawmakers to approve medical marijuana, reports Dorothy Tucker at CBS 2.
Multiple sclerosis patient Julie Falco said she was "ready to commit suicide" to escape the debilitating effects of her illness, until she discovered cookies made with marijuana.
"Not only did it help with my muscle spasticity, leg spasticity, my numbness and tingling, the pain... it saved my life," Falco said.
But unsurprisingly, opponents -- like Riverside Police Chief Tom Weitzel -- have objections, including concerns about patients who drive.
"Their reactions are slow," Chief Weitzel claimed. "It could either just cause erratic driving or in some cases they may be involved in auto accidents."
The science doesn't back up Weitzel's claims. A study looking at 16 states where medical marijuana is legal found traffic deaths dropped an average of nine percent. Researchers also looked at the impact on teenage pot use, and found that 11 states saw fewer teens smoking marijuana after legalizing medical cannabis.
Under the proposed law, Illinois patients would need a state-issued ID and a physician's authorization to buy marijuana. They would be limited to 2.5 ounces, and could get it at one of up to 60 dispensaries statewide.
"I don't think it would attract the right types of crowds that most communities would want," Chief Weitzel said. "Who?" replied commenter Gustavo Picciuto. "You mean crowds of sick people who need relief?"
"Besides, why do we ask a cop about his opinion on a health related issue?" Piccuito pointed out. "Marijuana is only related to law enforcement because the crime around its prohibition; take prohibition out of the equation and cops wouldn't shouldn't have a say in its legislation."
"Chronically ill patients, all they're wanting to do is find some relief," Falco said.
(Graphic: MarijuanaDoctors.com)