Illinois: Medical Marijuana Conference This Weekend In Chicago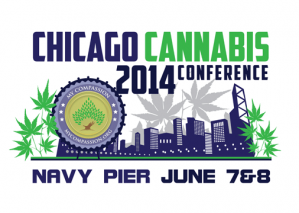 By Steve Elliott
Hemp News
"Don't be shy," says Amish Parikh, vice president of My Compassion, a Michigan-based nonprofit hosting a medical marijuana conference this weekend in Chicago. "It's OK to talk about marijuana -- cannabis."
As Illinois' medicinal cannabis rules are being finalized, the Chicago Cannabis Conference 2014 is being held this weekend, June 7-8 at Navy Pier. It will feature experts, advocates and businesspeople speaking about issues from the medicinal uses of cannabis to how to cook with pot.
According to Parikh, his group includes a consultant, a doctor and a nonprofit executive. They plan to use the conference to boost awareness of the medical benefits of marijuana, and to boost its image.
"If you respect the law, the law will stay," Parikh said. "We're trying to teach that as well."
Dr. Herman Toney, a medical marijuana advocate, will be joined at the conference by medical and scientific experts including naturopath Dr. Rob Streisfold, pediatrician Dr. Roberet Hicks, and cannabis researcher Dr. David Ostrow, reports Will Schutt at Medill Reports.
Panels will also be included where patients with brain cancer, leukemia, Crohn's, epilepsy and other conditions will speak about their experiences with medical marijuana.
The Chicago Cannabis Conference will be held from 10 a.m.-10 p.m. on Saturday, June 7th, and from 10 a.m. – 5 p.m. Sunday, June 8. It is open to the public and costs $15 for a day pass and $25 for the weekend.
Patients are yet to have any access to cannabis under the Illinois Compassionate Use of Medical Marijuana Pilot Program Act, which took effect in January. Under the law, patients are allowed to possess up to 2.5 ounces of marijuana from authorized dispensaries, once they apply for and receive a registry identification card.
The Illinois Department of Public Health says it hopes the program will be up and running by next January.
The program will permit 21 cannabis grow centers in the state, as well as 60 dispensaries. It gives doctors the authority to recommend cannabis for about 40 medical conditions.