Illinois: Medical Marijuana Entrepreneurs Say Startup Fees Too High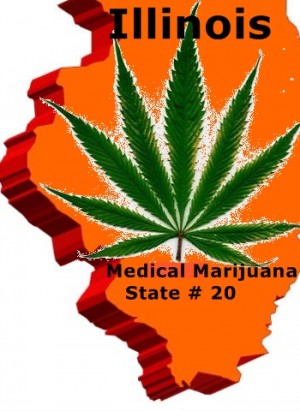 By Steve Elliott
Hemp News
Prospective medicinal cannabis businesspeople in Illinois say the high cost of entry will prevent many with expertise from entering the new industry. Under proposed rules for the new law legalizing medical marijuana in Illinois, would-be cannabis farmers need a $2 million surety bond, $250,000 in liquid assets, $25,000 for an application fee, and $200,000 for a permit fee, as well as an approved site.
"We have the know-how," said Robert Boyce, who grows vegetables, flowers and herbs in greenhouses in Lake Zurich, reports Robert McCoppin at The Chicago Tribune. "We have the manpower, the familiarity with growing herbal and medicinal plants, knowledge of building greenhouses. But right now, you're looking at three to five million dollars in startup costs."
Yes, it seems having a green thumb isn't as important as having a lot of green, if you want to enter the medical marijuana industry in Illinois.
While state regulators claim initial costs could vary widely, they say they want to ensure that those who want to run medical marijuana cultivation centers or dispensaries have sufficient money to operate, especially early on when they have to make big investments before having any revenue.
The state plans to issue revised rules on Friday, after receiving hundreds of public comments in response to proposed rules which were released back in February. Most of the comments complain that the rules are too strict, for those who who want to grow, sell, or consume medical marijuana alike.
Many patients complained that the $150 patient registration fee is too high, and that the requirement to fingerprint patients and investors is intrusive and excessive.
But some monied industry operators support the business fees, saying they will separate the "real business people" from dreamers who don't have the money to start an expensive business.
The proposed rules involve four state agencies and cover 226 pages. Though Illinois' medical marijuana law technically took effect this year, it could be 2015 before cannabis is available to patients, with the potenetial for more public hearings and more changes to the rules before that happens.
The law allows patients with one of about three dozen specified medical conditions, including HIV, muscular dystrophy, and complex regional pain syndrome, to be authorized by a physician to buy up to 2.5 ounces of marijuana every two weeks. Caregivers may also get certified to buy cannabis and deliver it to patients.
The new law allows only 22 cultivation center statewide, and 60 retail medical marijuana dispensaries. That means the grow operations will be challenged to grow a lot of marijuana, which will be tested for mold, pesticides and other contaminants.
Patients and business operators have also asked Illinois to remove a proposal to limit patients to just one dispensary, arguing that patients should be able to choose whatever dispensary they find offers the products that best suit their medical needs.
Graphic: Medical Cannabis News