Illinois: Medical Marijuana Now Legal - But Where Are The Authorizing Physicians?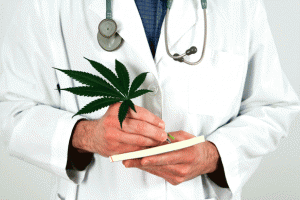 Now that medical marijuana has come to Illinois, how can qualified patients get authorized to legally use it? That can be a problem when physicians willing to certify patients for the state's Medical Cannabis Pilot Program are problematically scarce, according to a new study.
In a week-long study conducted by De Paul University students, 294 physician offices were contacted from a list provided on the Illinois Department of Financial and Professional Regulation's physician profile search, and asked whether or not their practitioners would be certifying patients for the medical use of marijuana in Illinois.
The offices ranged from small family practices with only one physician, to large hospitals with hundreds of physicians practicing in one field. The offices were located throughout Illinois including the counties: Cook, Kane, Will, DuPage, Kankakee, Peoria, Sangamon, Winnebago, McHenry, Effingham, Marion, Kendall and Union.
Half of the physicians contacted were primary care physicians, while half were specialists in the fields of gastroenterology, ophthalmology, oncology, neurology, pain management, infectious disease and rheumatology.
Despite the broad variety of physicians contacted as part of the study, the results yielded an overwhelming answer of "NO" to patients seeking medical marijuana recommendations.
Of the 294 offices contacted, 157 offices reported that they would not see medical marijuana patients. One hundred and thirty-two of the offices expressed that they were not sure what their physicians would be doing to help patients in the future.
Many offices had shockingly little information, having no idea that medical marijuana is even legal in Illinois, although the pilot program has been in effect since January 1. In total, only five offices of the 294 contacted confirmed that their physicians were willing to sign Illinois Medical Marijuana Recommendations.
Tammy Jacobi, chief executive of Chicago's first medical marijuana business, Good Intentions Medical Marijuana Services, expressed her concerns for patients in Illinois. "The lack of physician involvement in any state's medical marijuana program is and should be a serious concern," she said. "Physicians are the gatekeepers for successful state programs and although there are many people suffering from the debilitating conditions which would, by Illinois law, qualify them for the program, they are at a loss to find physicians willing to help."
The Illinois Department of Financial and Professional Regulations suggested that one would be able to call around to offices and find a participating physician easily, but this study proves that this is absolutely not the case.
If patients cannot find willing physicians, they cannot receive adequate treatment and this is the basis of the potential failure of the Illinois Medical Cannabis Pilot Program.
Graphic: The 420 Times