Illinois: Patients Would Lose Gun Rights Under Proposed Medical Marijuana Rules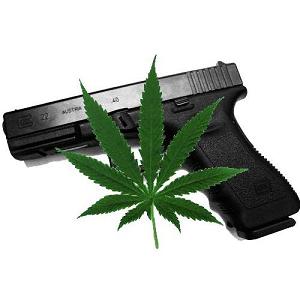 By Steve Elliott
Hemp News
Illinois medical marijuana patients would have to be fingerprinted, undergo a background check and pay $150 a year, under rules proposed by state officials on Tuesday -- and they would also give up their Second Amendment right to own a gun.
The plan details how adults with 41 specified medical conditions, including cancer, AIDs, and complex regional pain syndrome, may apply to get a medical marijuana patient registry ID card which entitles them to buy medicinal cannabis, reports Robert McCoppin at the Chicago Tribune.
The proposed rules are expected to be expanded over the course of the next year; they govern how medical marijuana can be legally grown, sold and purchased. The Illinois Department of Public Health is accepting comments on the rules until February 7, at which point they will be submitted to a legislative panel for approval by the end of April.
Most of the rules deal with how patients can qualify for an ID card to buy up to 2.5 ounces of marijuana every two weeks, or more if a doctor specifically certifies that it's necessary.
But one controversial proposal says that qualifying patients or caregivers may not possess firearms, even if they have an Illinois gun owner's ID card or concealed carry permit. Violators will be subject to arrest by state police under the proposed rules.
If patients were expecting any help from right-wing gun lobby the National Rifle Association (NRA), dream on. That organization doesn't have enough of a backbone to support medicinal cannabis patients' gun rights; they seem much more concerned about the 2nd Amendment rights of mass murderers than those of medical marijuana patients.
Todd Vandermyde, a lobbyist for the NRA, said the organization "takes no position" on the issue, but that the rule seems to be an attempt to interpret federal law. A firearms application form from the U.S. Department of Justice asks if the buyer is "an unlawful user" of marijuana or other controlled substances.
The proposed rules make it clear that marijuana is still illegal under federal law, and Illinois denies liability for any damages arising from the medicinal cannabis program, including federal prosecution.
"It presents a novel legal conundrum," Vandermyde said. "The courts are going to have to reconcile it."
Patients could designate a caregiver to legally buy and carry cannabis for them; patients and caregivers would undergo background checks by the Illinois State Police. They'd be rejected for any violent felony conviction or for possession of any controlled substance -- including marijuana, which means patients who were self-medicating before the law passed, and got busted, could ironically be ineligible for the damn stuff now that it's legal.
Fortunately, a proposed exemption would be if a patient can prove that a prior pot conviction involved a "reasonable amount (of) cannabis intended for medical use," and that the patient had a debilitating medical condition at the time.
Patients must be at least 18 under the proposed rules, and must have a "bona fide" relationship with the physician who authorizes them for medical marijuana. The state would have 180 days to act on an application; patients would need to reapply annually.
The law would prohibit the use of medical marijuana by police officers, firefighters, and school bus and commercial drivers.
Marijuana cultivation centers would be required to track inventory and have 24-hour security systems. They would be prohibited within 2,500 feet (more than twice the federal guideline of 1,000 feet) of a school, child care center or "residential area," and could not sell marijuana directly to patients, only to registered dispensaries.
Department of Health spokeswoman Melaney Arnold said she expects tens of thousands of applicants, as well as many comments from the public.
Patient applications will be accepted from those whose last names start with A through L in September and October. Those whose last names start with M through Z may apply in November and December. After that, all applications will be accepted year-round.
Proposals for adding more conditions to the list of qualifying ailments for medical cannabis will be reviewed by a nine-member advisory board of health professionals and one patient advocate. The Department of Health will then make the final decision.
You can read the proposed rules by clicking here.