Illinois: Proposed Rule Nixed; Would Have Barred Medical Marijuana Patients From Having Guns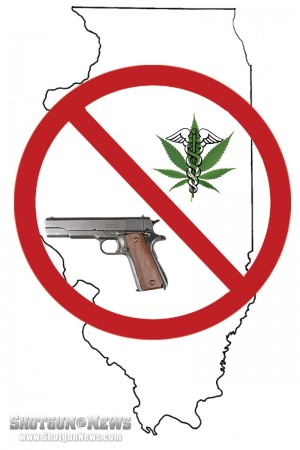 By Steve Elliott
Hemp News
A proposed rule that would have barred medical marijuana patients from getting Firearm Owner's Identification cards has been nixed.
State officials had posted preliminary rules for the Illinois Medical Cannabis Pilot Program that barred medicinal cannabis patients or their caregivers from obtaining a FOID card if they were part of the program, reports Becky Schlikerman at the Chicago Sun-Times.
That provision has now been removed from rules that will be officially filed for review later this week, according to the Sun-Times. It was not immediately known if the same provision about Concealed Carry Weapons Permits had also been removed from the rules.
"I'm happy to see that they have changed the provision," said Rep. Lou Lang (D-Skokie), who sponsored the medical marijuana legislation and sits on the committee that will vote on the official rules. "I did ask them to remove it. I'm not the only one who did."
Both patients and caregivers would have been required to certify their understanding of the conflict between gun ownership and medical marijuana use, reports Carla K. Johnson of the Associated Press.
The wording drew many complaints from gun owners who hoped to apply for medical marijuana cards; many said their Second Amendment rights were being violated. It said gun owners who get medical marijuana cards "may be subject to administrative proceedings by the Illinois State Police if they do not voluntarily surrender" their firearms owners ID cards or concealed carry permits.
"Anything that makes it less burdensome for the patients is always a good thing," said Julie Falco of Chicago, who says she uses cannabis to control the pain from multiple sclerosis. "It never did make any sense."
The official rules are expected to be published on Friday, according to Illinois Department of Public Health officials. The Illinois medical marijuana program is a four-year pilot project, with the option to renew at the end of the four years. It is considered one of the strictest medicinal cannabis programs in the nation.
Anyone who uses a "controlled substance," including marijuana, is prohibited from owning or possessing a firearm or ammunition under federal law, according to Bureau of Alcohol, Tobacco, Firearms and Explosives spokesman Thomas Ahern.
Graphic: Shotgun News