Illinois: Work Begins On Medical Marijuana Rules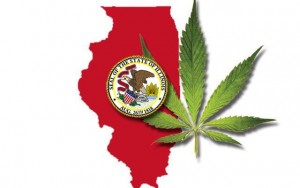 By Steve Elliott
Hemp News
Illinois officials have begun the work of setting up a system of regulations to let patients buy medical marijuana in the state.
Officials from at least four state agencies are meeting to draft rules that will govern medicinal cannabis distribution, reports Kurt Erickson at The Southern Illinoisan. Their goal is to have a final version ready for the Legislature by May.
The Compassionate Use of Medical Cannabis Pilot Program Act, passed this summer, makes Illinois the 20th state to legalize the use of marijuana for medical purposes. It allows patients with serious medical conditions, including cancer, glaucoma, HIV/AIDS, hepatitis C, amyotrophic lateral sclerosis (ALS), Crohn's, multiple sclerosis, lupus and other conditions to legally use marijuana with a physician's authorization.
Rep. Lou Lang (D-Skokie), sponsor of the law, said he hopes state regulators can issue a draft of their rules before the May deadline. "I know I've laid some difficult tasks on their plates," Lang said. "I'm just pleased that they're meeting now."
There have already been several meetings, according to Mike Claffey, a spokesman for the office of Governor Pat Quinn. "All agencies tasked with implementation are reviewing Illinois and other states' laws to ensure a successful Illinois program that avoids some of the pitfalls and challenges faced by other medical cannabis programs," he said.
Officials at the Illinois Department of Public Health are looking into how they'll oversee the patient and doctor aspects of the law. For example, after a patient is authorized by a doctor, the patient will then send a copy of that authorization to Public Health; the agency will verify that information and then issue a medical marijuana card. A patient will not be able to purchase cannabis without the card.
The Illinois Department of Agriculture will regulate the growing and harvesting of marijuana. It will review plans of prospective growers, and will have to select one facility in each of the 22 Illinois State Police districts.
These growing facilities will have 24-hour surveillance and strict inventory controls. Once the program is underway, the Agriculture Department is required to conduct weekly inspections on each of the 22 growers.
Growers and dispensary employees will also be required to undergo criminal background checks.
Employees at the Department of Financial and Professional Regulation are discussing how they will regulate the 60 dispensaries that will provide access to patients. The agency plans to hire an employee to oversee the new division, but will likely use an existing system to license and regulate the shops, according to spokeswoman Sue Hofer.
"We already license pharmacies, so we expect this will be very similar," Hofer said.
Once the rules are submitted to lawmakers, and approved on that level, the agencies will begin setting up the system and start licensing growers, dispensaries and patients.
It could be the summer of 2014 before patients will be able to buy cannabis in Illinois.
"I hope this moves faster in order to help the people this law was designed to help," Lang said.
(Graphic: High Times)