Indiana: Marijuana Legalization Ad to Air at NASCAR Brickyard 400 This Weekend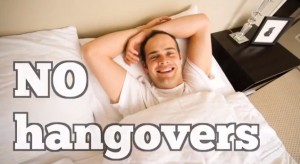 Video on jumbotron will inform fans that marijuana is objectively less harmful than alcohol; ad reminiscent of a beer commercial characterizes marijuana as a 'new beer' with 'no calories,' 'no hangovers,' and 'no violence' associated with its use
By Steve Elliott
Hemp News
NASCAR fans attending this weekend's Brickyard 400 races at the Indianapolis Motor Speedway will be greeted by a video ad in support of making marijuana legal for adults. The ad, produced by the Marijuana Policy Project, is scheduled to air dozens of times from Friday through Sunday on the jumbotron at the entrance of the speedway, which will be "the epicenter of American stock car racing and North American sports car racing" this weekend, according to the event's website.
The ad, which is reminiscent of a beer commercial, highlights the relative safety of marijuana compared to alcohol by characterizing marijuana a "new 'beer'" that is less harmful to the consumer and to society. It points out that marijuana has no calories, does not produce hangovers because it is less toxic, and does not contribute to the violent and reckless behavior frequently linked to alcohol use.
"Our goal is to make this weekend's event as educational as it will be enjoyable," said Mason Tvert, director of communications for the Marijuana Policy Project. "We simply want those adults who will be enjoying a beer or two at the race this weekend to think about the fact that marijuana is an objectively less harmful product.
"Marijuana is less toxic and less addictive than alcohol, and it is far less likely to contribute to violent and reckless behavior," Tvert said. "We hope racing fans who still think marijuana should be illegal will question the logic of punishing adults for using a safer substance than those produced by sponsors of NASCAR events and racing teams."
Marijuana Policy Project NASCAR Ad Script
If you're an adult who enjoys a good beer, there's a similar product you might want to know about. [Text on screen: "A new 'beer'?"]
One without all the calories and serious health problems. [Text on screen: "NO calories"]
Less toxic so it doesn't cause hangovers or overdose deaths. [Text on screen: "NO hangovers"]
And it's not linked to violence or reckless behavior. [Text on screen: "NO violence"]
Marijuana... Less harmful than alcohol , and time to treat it that way. [Text on screen: "Marijuana" with tagline below: "Less harmful than alcohol and time to treat it that way"]