Global: Josh Tickell - The Fuel Film
The Fuel Film Sets The Green Standard To New Levels - The Choice Is Ours
By Michael Bachara, Hemp News staff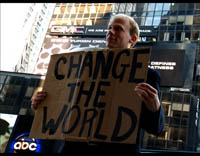 FUEL, is a comprehensive and refreshing look at energy solutions in America, compiled by biodiesel advocate and filmmaker Josh Tickell. The film has taken over twelve years to assemble, won the Audience Award at the 2008 Sundance Film Festival, and is an ever evolving project. It is a historic time line of where we have been, identifies our present predicament and a searches for a solution to our dependence on foreign oil and food supply. The film evokes emotions that compel viewers to participate in local community projects in the aid of our planet.
FUEL is an example of the social movement that is going on in the world. Our government bails out the slumping auto industry, yet President Obama speaks of investing in alternative energies as the way of our future and creating green industries. FUEL presents convincing evidence that making a change is absolutely necessary; a change seeking accountability, reinforcing the idea that the power of every individual can and will make a difference to this earth. The film's cast is a eclectic compilation of stars including Woody Harrelson, Sheryl Crow, Neil Young, Willie Nelson, Larry Hagman(J.R.) and multiple other open-minded individuals, all joining with the universal message of the need for renewable energy.
Tickell's vision quest began after he discovered, through translated documents written by the inventor of the diesel engine, Rudolf Diesel, that the first diesel engine had been designed to run on vegetable oil, not petroleum. He then invested in an old diesel-powered Winnebago van, painted it with sunflowers, and called the "Veggie Van". He also built a small biodiesel processor that he named "The Green Grease Machine" and set off on a 25,000 mile, two-year tour of the USA powered by the biodiesel made from used grease he collected at fast food restaurants along the way. His trip is well documented on the internet.
His journey has attracted the attention of several media outlets, serving to promote the publicity of biodiesel as a viable alternative fuel, and has had a great butterfly-effect on many, convincing them to make a difference in their energy endeavors.
Tickell has been a guest on our show "Cannabis Common Sense" and has given great insights into the true roots of prohibition. He has an abundance of statistics on the topic and is, we believe, a visionary who has a plan worth listening to on the topic of planet survival.
Josh Tickell - Cannabis Common Sense 469
Upcoming Fuel Film Showings
Feb 19th - Sust. Living Festival - Australia - Federation Square
Mar 4th - The Wolfsonian - Miami Beach, FL - 1001 Washington, 33139
Mar 25th - Vilar Center - Beaver Creek, CO - 68 Avondale Ln, 81620
Apr 20th - Univ. of Indiana - Indy, IN - 420 Univ. Blvd, 46202

Source: http://thefuelfilm.com
Additional Source: http://en.wikipedia.org/wiki/Josh_Tickell