Kansas: Marijuana Decriminalization Petition Falls Short In Wichita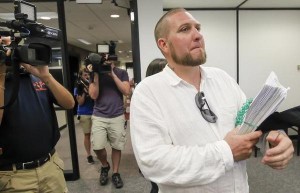 By Steve Elliott
Hemp News
Supporters of a petition to decriminalize marijuana in Wichita, Kansas, have come up just short of the number of signatures they needed to force the city to put the issue to a vote.
Organizers got word late Thursday that the Sedgwick County Election Board has ruled they were just 41 signatures short of the 2,928 needed to qualify, reports KAKE.com.
Around 3,500 signatures were disqualified by the office, although reasons weren't immediately given. One possibility is that the election office wouldn't accept signatures from people who were newly registered by the petition circulators, or that those registrations were delayed at the office by proof-of-citizenship requirements, according to petition drive leader Esau Freeman, reports Dion Lefler at The Wichita Eagle.
"This is exactly what I expected from the election office," Freeman said, adding that he was "terribly disappointed" but isn't giving up.
The signature count was supposed to have been completed a year ago, but was delayed by the need to recheck rejected signatures and to conduct Tuesday's primary election.
Petition supporters said they'll be at Tuesday's city council meeting to encourage the council to put the measure on the ballot. The drive had been organized towards getting the decrim question on the November 4 general election ballot.
The initiative would change marijuana possession and paraphernalia possession from a criminal offense to a minor civil violation. The maximum fine would be $25, down from the current penalty of $2,500 and a year in jail.
While marijuana would still be illegal under both state and federal law, local decrim could "encourage" police to deal with minor pot possession without arrests, petitioners said.
About 1,800 to 1,900 people are arrested in Wichita every year for marijuana offenses, creating criminal records that can block advancement in jobs and education.
About 30 to 40 percent of those arrested are black, despite the fact that blacks make up only 11.5 percent of the city's population and whites use marijuana at similar rates -- 14 percent for black people nationwide, and 12 percent for whites, according to the American Civil Liberties Union.
Photo of Esau Freeman: Fernando Salazar/The Wichita Eagle