Kansas: Medical Marijuana Advocates Rally At Capitol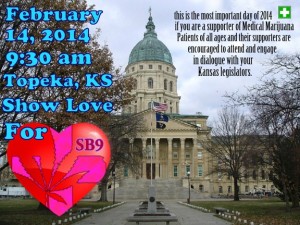 By Steve Elliott
Hemp News
Medical marijuana legislation went nowhere in either chamber of the Kansas Legislature, so the group Kansas for Change on Friday held a rally at the Capitol dome. They want to add Kansas to the list of states that allow access to medical marijuana with a doctor's authorization.
"Putting people in prison and trying to legislate your particular brand of morality is not what Kansans have asked for and not what we're going to stand for," said Esau Freeman, president and cofounder of Kansas for Change, reports Melissa Brunner at WIBW.
As medical marijuana supporters flowed into the Capitol for the event, sneers and jeers were in the air, reports Travis Perry at Kansas Watchdog. Security guards reportedly joked about setting up an "amnesty bin" to collect weed from those attending the rally, and state lawmakers laughingly asked why the rally wasn't set for 4:20 p.m.
"It shows a total lack of respect," Freeman said. "It shows a lack of respect for the patients that are suffering from cancer every day. It shows a lack of respect for those of us who get up every day and advocate for a change in our society. I expect more from our legislators in Kansas."
The cannabis advocates invited opponents to attend, but none of them showed when the crowd rallied by Democratic Senator David Haley's medical marijuana bill, SB 9, and its counterpart in the House, HB 2198. So far, no hearings are scheduled on either bill.
Freeman said that not allowing hearings on the measure is against the spirit of the legislative process. He said lawmakers have a duty to allow debate on all topics, whether they agree with a bill or not.
Freeman said he understands opponents may be concerned about "drug abuse," but criminalizing the use of cannabis for medicinal purposes and putting violators in prison has a huge cost for taxpayers. "If you're concerned about drug use, deal with it like you deal with smoking," he said. "Put out campaigns to reduce use and make people responsible."
Just before the gathering, Senate President Susan Wagle told the group her scheduled was "booked for the day," and that she had never been invited to the event. Freeman said that's just not true.
"I would have to say that she must have forgotten that I called her office (Tuesday) and invited her via her staff," Freeman said.
Republican Senator Mary Pilcher-Cook, a major opponent of SB 9 and chair of the Senate Committee on Public Health and Welfare, did not respond to requests for comment.
The Kansas Silver Haired Legislature is among the groups supporting medical marijuana in the state. Dan Woodard, a self-proclaimed teetotaler and member of the Silver Haired Legislature, which represents the interests of more than 450,000 senior citizens in the state, said he has been diagnosed with multiple sclerosis.
"I've never taken an illegal substance, and I really don't want to, at 70 years of age, but I'd like to try medical marijuana to see how it treats my symptoms," Woodard said. He said he'd spoken with GOP Rep. Steve Brunk, who told him HB 2198 hadn't been granted a hearing before the Federal and State Affairs Committee because other legislation "has taken priority," and not because of a personal stance on medical marijuana.
"I'm willing to put my faith and my trust in the intelligence and common sense of the Legislature to do the right thing," Woodard said.
Senator Haley requested that lawmakers on both sides of the issue agree to at least debate the matter.
"When other states continue to have this discussion and to move on legislation for or against, why are we deprived," Senator Haley asked. "Why is Kansas deprived of leadership that wants to hear the people's voice?"
"While the Kansas Legislature has plenty of time to restrict the rights of same-sex couples, or eliminate 'no-fault' divorces, it can't get it together to provide for a natural remedy that has helped epileptics, those suffering from glaucoma, wasting diseases, etc.," commented "Kansan" on Kansas Watchdog's site. "Disgraceful!"
Kansas For Change: Working for Sensible Cannabis Law Reform in Kansas