Kansas: Wichita Marijuana Advocates Turn In Petitions To Reduce Penalties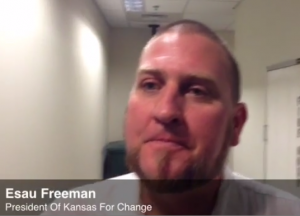 By Steve Elliott
Hemp News
Marijuana advocates in Wichita, Kansas on Thursday turned in petitions with nearly twice as many signatures as they need to put decriminalization on the November ballot.
City officials in Wichita said they may have questions and concerns about the wording of the measure, but they have no immediate plans to go to court to try to block the initiative, reports Dion Lefler at The Wichita Eagle.
Organizers Esau Freeman and Janice Bradley went to Wichita City Hall at 4:20 p.m. on Thursday and presented City Clerk Karen Sublette with a thick sheaf of papers. According to the advocates, those papers contain the names and signatures of more than 5,800 people in favor of decriminalizing possession of marijuana and paraphernalia.
They need 2,928 valid signatures of registered Wichita voters to put the issue on the ballot.
"We didn't verify every single one, but we're pretty confident with what we have," said Bradley, who added that an intern with the Peace and Justice Social Center had checked a large sample of the signatures.
The petition has garnered support from at least two state legislators and the Community Voice, a newspaper focused on Wichita's black community.
City Clerk Sublette, after consulting with the city law department, accepted the petitions, saying she would stamp them as received and then send them to Sedgwick County Election Commissioner Tabita Lehman Friday morning. Lehman's staff will count and verify the signatures to determine if the measure will appear on the ballot.
The City Council can do one of three things if the measure qualifies: Pass the ordinance unchanged; pout it on the ballot; or file a district court action challenging its wording.
There are no plans at present to try to block the petition, according to spokeswoman Lauragail Locke and City Council member Pete Meitzner. "I don't have any feeling that the city, at the council level, wants to be combative or obstructionist about this," Meitzner said.
The council could work with petition organizers to clarify some of the language that the city law department has questioned, according to Meitzner. The Sedgwick County counselor's office had approved the language before the signature drive began, but that's "not an absolute green light" and it could still be challenged in court, according to Seth Poor, a lawyer representing the petitioners.
The measure would reduce the penalty for possession of an ounce or less of marijuana from the current maximum of a year in jail and a $2,500 fine, to a flat $25 fine with no jail time. It would also change marijuana possession or paraphernalia possession from a criminal misdemeanor to a minor civil offense like a parking ticket.
Marijuana possession could still be prosecuted under state or federal law, but organizers said it would make it less likely for the Wichita police force to arrest small-time users.
Organizers said the current marijuana laws act as a gateway into the criminal justice system, creating thousands of criminal records that can follow people for life and shut down career and educational opportunities. That effect is particularly noticed in the black community, they said.
Wichita officers arrest between 1,800 and 1,900 people per year for marijuana, according to city records the petitioners obtained through the Kansas Open Records Act. Thirty to 40 percent of those arrested are black, although African Americans only make up 11.5 percent of Wichita's population.