Kansas: Wichita Marijuana Supporters Not Giving Up, Despite Falling 47 Signatures Short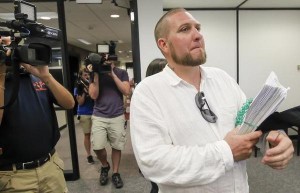 By Steve Elliott
Hemp News
Despite falling 47 signatures short of getting a marijuana decriminalization petition on the ballot in Wichita, Kansas, supporters aren't giving up.
Interim City Attorney Sharon Dickgrafe on Tuesday told the Wichita City Council that it could not legally put the issue on the ballot as a ballot petition, but the council then voted for city staff to work with the marijuana petitioners to address the language of a ballot petition that could be carried for a signature election, probably for a vote next spring when city elections are held, reports Kelsey Ryan at The Wichita Eagle.
But supporters also plan to fight the Wichita elections office on the signature count done last week during the primaries, and still hold the goal to meet the county deadline later this month to get the issue on the November ballot.
Initiative leader Esau Freeman said there have been concerns over two missing pages of signatures that were turned over to the county, with 2,928 valid voter signatures needed to put the issue on the ballot.
At least one of the missing pages contained the signature of his wife, Freeman said. He said petition gatherers weren't allowed to observe the counting, which was done by the Sedgwick County elections office.
"[Kansas Secretary of State] Kris Kobach says we have open and fair elections, but I think the first case of voter fraud has been perpetrated by the Sedgwick County election office," Freeman said.
If that effort to verify the current signatures doesn't meet with success, the group can raise funds to mail all of the people who already voted in favor for a second petition to submit and be able to get the signatures faster this time, according to Freeman.
Political Science professor Russell Fox of Friends University urged the Wichita City Council to not allow concerns of state and federal challenges to the proposed ordinance keep them from putting the issue on the ballot.
"We work for the people," said former GOP gubernatorial candidate Jennifer Winn, who got 37 percent of the vote against Gov. Sam Brownback in last week's primary. "The people's will is very clear" on putting the issue to a vote, she said.
"Some of us are here trying to achieve what you are trying to achieve," council member Janet Miller told the audience of marijuana supporters at Tuesday's meeting. "Please don't lose sight of that."