Kentucky: Hemp Farming Can Move Ahead Under New DOJ Policy, Ag Commissioner Says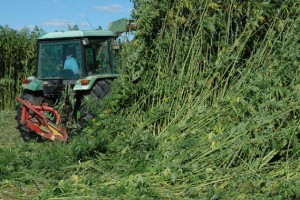 By Steve Elliott
Hemp News
Kentucky Agriculture Commissioner James Comer said on Friday this week's policy change by the U.S. Department of Justice, under which the DOJ agreed to defer any lawsuits against states which legalize recreational marijuana, also clears the way for farmers to begin growing industrial hemp in the Bluegrass State.
The DOJ announced the new policy on Thursday, allowing states to legalize and regulate the cultivation, sales and use of marijuana as long as the changes protect children and prevent cannabis from entering the black market, reports the Courier-Journal.
Comer called the federal policy reversal a "major victory" for Kentucky farmers; he had spearheaded a hemp bill through this year's session of the Legislature. Officials indicated hemp cultivation could begin within a year.
Hemp, like marijuana, is a variety of the cannabis plant, but industrial hemp is grown for the fiber in its stalks and for the nutritional oil in its seeds, which contain a favorable ratio of the essential fatty acids (EFAs), Omega 3-6-9. Federal law, however, treats hemp the same as marijuana.
"It's about time," Comer said. "Two years ago, the Obama administration would not even discuss the legalization of industrial hemp. But through a bipartisan coalition of Kentucky leaders, we forced their hand."
Senate Bill 50, backed by Comer, created a process to regulate hemp production if the federal government allows it. It won broad support as it passed the Legislature earlier this year, but federal laws have remained a barrier to its implementation.
The Kentucky Industrial Hemp Commission is scheduled to meet on September 12, and Comer said he will urge commission members to move forward on the administrative paperwork established under SB 50 at that meeting.
"Had we not passed the framework to responsibly administer a program, we would be lagging behind right now rather than leading the pack," Comer said.
A Courier-Journal Bluegrass Poll conducted in February found 65 percent of Kentuckians favored legalizing hemp, compared to 22 percent opposed and 13 percent unsure.
(Photo: The Australia Hemp Masonry Company)