Kentucky: State Police To Start Flyovers Searching For Marijuana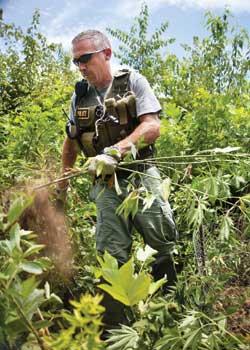 By Steve Elliott
Hemp News
Kentucky State Police are resuming helicopter flyovers this summer as part of the agency's quixotic, expensive annual marijuana "eradication" campaign.
The boondoggle, which wastes untold police time and taxpayer money every year in a doomed fight against cannabis cultivation, is hampered this year by rising fuel costs. That, according to James Mayse at the Owensboro Messenger-Inquirer, means the whirlybirds won't spend as many hours in the air as they did in past years.
Instead of conducting blanket flyovers, the agency said it will target areas where marijuana has been frequently grown in the past, and will use tips from snitches to schedule areas for inspection.
State Police Trooper Stu Recke said a helicopter works out of one post for about a week during the summer doing "marijuana eradication" work.
The State Police agency also works with the Kentucky National Guard to fight marijuana cultivation, but that joint effort usually focuses on the eastern part of the state.
(Photo: Nashville City Paper)