Louisiana: Bill To Reduce Marijuana Penalties Dies; Falls Short By Two Votes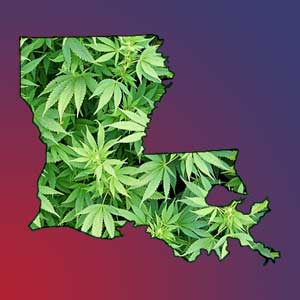 You Can Still Get 20 Years For Simple Possession of Marijuana in Louisiana
By Steve Elliott
Hemp News
A bill which would have reduced penalties for marijuana possession died on the Louisiana Senate floor on Thursday after lawmakers tried three times to get the votes necessary to begin debate.
Sen. J.P. Morrell (D-New Orleans), who tried twice on Wednesday and once more on Thursday to get the 26 votes needed, was heard to say "I'm done. That's it," as he walked away from the podium on Thursday, reports Lauren McGaughy of the New Orleans Times Picayune. The final effort fell short by just two votes.
House Bill 103, sponsored by Rep. Austin Badon (D-New Orleans), needed a two-thirds vote of state senators to even be brought up for debate, since it came up after the deadline for normal passage of bills in this year's legislative session.
Opponents claimed the bill would send "the wrong message that it's OK to smoke marijuana in Louisiana." Lawmakers reportedly chuckled and rolled their eyes as Morrell took to the podium on Thursday to rally votes for the bill. Families of those incarcerated for 20 years or more for marijuana possession -- including a few prisoners who got life sentences for pot under the state's habitual offender law -- were less amused.
"I heard the groaning," Morrell said. "I hear the inhaling and exhaling. I think it would be appropriate to at least attempt to have debate on this bill."
Putting fewer people in prison for pot would mean a savings for taxpayers, Morrell said. His assertion is supported by the bill's fiscal note, which puts the savings at $2.2 million in 2014.
Louisiana has the highest rate of incarceration in the world, beating out totalitarian nations like China and Iran, along with every other state in the U.S.
"The amount of money we're wasting to incarcerate someone ... it's ridiculous, ladies and gentlemen," Morrell told the Senate.
Under current Louisiana law, anyone convicted of possessing any amount of marijuana -- even half a joint -- can be jailed up to six months on a first offense. Repeat offenders can get up to five years in prison and face fines of up to $2,500.
Those convicted three or more times can get 20 years in prison -- this is for simple possession of small amounts, mind you -- and fines of up to $5,000. Under Louisiana's habitual offender law, some have received life sentences for marijuana.
Badon's bill would have reduced the maximum prison time to no more than two years for second-time offenders, five years for third-time offenders, and eight years for those convicted four or more times (the fact that an eight-year prison sentence for simple possession of marijuana could be considered "progress" in Louisiana is a stark reminder of just how far we have to go).
The maximum fine for repeat possession would also have been lessened, from $5,000 to $2,500.