Louisiana: Bill To Reduce Marijuana Penalties Goes Before Full Senate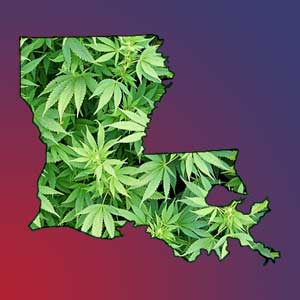 By Steve Elliott
Hemp News
A bill which would reduce the penalties for marijuana possession in Louisiana passed a legislative hurdle on Tuesday. House Bill 103 was approved in a Senate judicial committee and sent to the floor of the full Senate. If approved there, the bill would go to Governor Bobby Jindal's desk.
The bill, sponsored by state Rep. Austin Badon (D-New Orleans), would lessen the jail time and fines imposed on people convicted of simple marijuana possession, reports Lauren McGaughy of The New Orleans Times Picayune.
Badon said the bill would "keep families together, to keep people [from] going on the unemployment rolls," speaking before the Senate Judiciary C Committee on Tuesday. According to Badon, keeping people charged with marijuana possession out of jail would save Louisiana taxpayers $2.2 million in incarceration costs; the bill's fiscal note backs up his assertion.
The lowered penalties would not apply to those charged with intent to distribute or to those in possession of synthetic products like K2 or Spice.
Under current Louisiana law, first-time marijuana offenders can be jailed up to six months. Repeat offenders can get up to five years in prison and up to a $2,500 fine. Those convicted three or more times of pot possession can get a 20-year prison sentence and up to a $5,000 fine.
Badon's bill would reduce the jail time to not more than two years for second offenders, five years for third-time offenders, and eight years for those convicted four or more times of marijuana possession. It is perhaps a measure of the sadly draconian nature of Louisiana's marijuana laws that an eight-year prison sentence for marijuana possession can be considered an "improvement."
The maximum fine for possesion would be lessened from $5,000 to $2,500 under Badon's bill.
The bill passed the judiciary committee on a 4-2 vote with Committee Chairman Sen. Bob Kostelka (R-Monroe) and Sen. Mack "Bodi" White (R-Baton Rouge) voting against; these two men seem to like the idea of sending marijuana users to prison for 20 years.
White said he believed the bill sent "the wrong message that it's OK to smoke marijuana in Louisiana."
Kostelka agreed, repeatedly (and rudely) asking members of the public testifying in support of the bill if they were in favor of legalizing marijuana.
"This is a very modest bill; it is not at all a slippery slope [towards legalization]," lawyer David Brown of Baton Rouge said during his public testimony. "This bill does not seek to get softer on drugs; it seeks to get smarter on drugs."
"This is not the road to legalization," agreed Ben LaBranche of the Louisiana Association of Criminal Defense Lawyers. "It's just good. It minimizes the maximum penalties for these marijuana offenses," which are currently the same as those for cocaine in Louisiana.
Proponents say the opportunity to reduce pot sentences would benefit the state, since Louisiana currently has the highest per capita prison population in the world, with an estimated 40,000 people locked up in state correctional institutions.
Earlier versions of the bill removed marijuana possession offenses from the three-strikes "habitual offender" law in Louisiana -- under which people have gotten life sentences for cannabis -- but Badon made concessions "to allow for greater judge discretion in sentencing."
"[This bill] does not tie our hands on the habitual offender law, which the original bill did," Adams said. "It's a relative felony and it remains a relative felony under this bill." So basically, Adams seems proud of himself to have preserved the possibility of life sentences for marijuana.
"Is this the same marijuana that the last three Presidents have admitted using," Sen. Elbert Guillory (R-Opelousas) wryly said in making the motion to report the bill favorably. Badon replied in the affirmative, saying "Our marijuana laws are more harsh than some of the laws for heinous crimes in Louisiana."
The bill now heads to the Senate floor for final debate and vote. Since the Lousiana Legislature already passed Monday's deadline for regular approval of bills, Badon's bill has an unusually high hurdle to clear: it must garner a two-thirds majority vote on the Senate floor to head to Gov. Jindal's desk.
(Graphic: The Weed Blog)