Maine: Senate Refuses To Let Voters Decide On Marijuana Legalization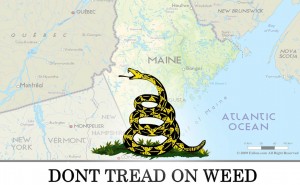 By Steve Elliott
Hemp News
The Maine Senate on Monday blocked a chance for the state's voters to decide for themselves at the ballot box whether to legalize marijuana for recreational use.
The Senate voted 24-10 Monday morning against sending the question to November's ballot, reports Christopher Cousins at the Bangor Daily News. That followed a Friday vote in the House of Representatives where the measure, LD 1229, sponsored by Rep. Diane Russell (D-Portland), fell four votes short of passage.
LD 1229 would have created a system of regulating and taxing marijuana. After a majority of the Criminal Justice and Public Safety Committee opposed that plan, lawmakers voting with the minority moved forward with an amendment calling for a voter referendum, giving them a chance to decide, on a straight up-or-down question, whether Maine should craft rules to allow the legal, recreational use of cannabis. That was the question being debated on Monday in the Senate.
Some senators argued that the Maine Legislature should act before the issue is forced upon them by a voter initiative, but others seemed mostly concerned with not having their votes recorded as "supporting marijuana legalization."
"We need to get ahead of this issue," said Sen. Linda Valentino (D-Saco), pointing out that both gambling and alcohol are addictive, but both are legal and regulated in Maine. Valentino argued the question posed by LD 1229 would give legislators better control of rulemaking than would a citizen initiative.
Sen. Gary Plummer (R-Windham) said the decision should be left to the people. "This bill isn't about legalizing marijuana," he said. "I think it's important to ask people their opinion."
Sen. John Cleveland (D-Auburn) said legalized marijuana would pose a challenge for parents, but no more so than they already face regarding alcohol or tobacco.
"Simply by not allowing it to a vote or allowing it to be legal doesn't change those conversations," Cleveland said. "I'd ask you to seriously consider what the better outcome is ... Trust the people of Maine to make a reasonable decision on this."
But the arguments against the bill were numerous, including one from of the bill's co-sponsors, Sen. Stan Gerzofsky (D-Brunswick). "You can't charge a tax on something that's federally illegal," he claimed, which would surprise cities like Oakland, California, which receive millions of dollars in medical marijuana taxes.
"I don't want to jeopardize what we do have for the people who need it very badly," he said, noting that legalizing recreational marijuana could lead the federal government to crack down on Maine's medicinal cannabis law.
Even though the Legislature refused to put the legalization question on November's ballot, that may, in the long run, turn out to be moot. The Marijuana Policy Project said it plans to collect enough signatures to put the question on the ballot in November 2016.