Maryland: Delegates Try To Revive Marijuana Decrim Bill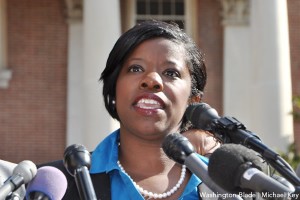 By Steve Elliott
Hemp News
Several rebellious members of the Maryland House of Delegates tried on Friday to revive a bill which would remove criminal penalties for small amounts of marijuana, days after the measure got hung up in a committee, according to lawmakers.
Delegates led by members of the Legislative Black Caucus tried to amend the legislation in the full House, an unusual challenge to committee rule in the tightly scripted Legislature, report Fredrick Kunkle and John Wagner at The Washington Post. The move is also a challenge to one of the most powerful men in the House, Judiciary Committee Chairman Del. Joseph F. Vallario Jr (D-Prince George's County).
"There are a number of members in the House who feel very strongly that Maryland should be moving in the direction of decriminalizing marijuana," said Del. Aisha N. Braveboy (D-Prince George's County), chairwoman of the Legislative Black Caucus.
Overcoming a committee chairman's opposition "is very difficult," she said. "But it's not impossible, and it has happened before."
The amendment will likely be introduced during Friday's House session, but debate could be pushed until Saturday, according to several lawmakers.
Last year, the Maryland Senate passed a decriminalization bill, but that one also died in Vallario's committee without a vote. This year was looking like a rerun.
Vallario and members of his committee appeared to put the marijuana issue to rest on Wednesday, when they allowed one decrim bill to die without a vote, and amended another to "create a task force" to "study the issue further," which is, of course, an infamous political "end-around run " way of doing nothing.
Vallario, as committee chairman, had tried his best to kill the bill outright by lobbying members of the committee to outright vote it down -- but once it became clear the votes weren't there to do that, he pursued the "creating a task force" strategy of stifling the bill, instead.
Braveboy, who is running for Maryland Attorney General this year, said she and other delegates hope to restore the original language to a decrim bill that passed the Senate on March 14 with bipartisan support. She said there appears to be enough support in the House to pass the decrim bill if the amendment is successfully added, undoing the committee's evisceration of the bill.
But resurrecting the bill also crosses into uncomfortable political territory. An unwritten rule requires committee members and other delegates to "respect a committee's decisions," even when those decisions aren't respectable at all -- as in allowing the decrim bill to die. "Typically, once your committee has voted on a bill, you're asked to stick with your committee," Braveboy said.
But several members of the caucus believe that now is the time to end a War On Marijuana whose collateral damage, they say, has just been to great to continue. The damage includes minorities being arrested at eight times the rate of whites for marijuana, despite similar usage levels, and the struggles of people who have been convicted of possession to get jobs or college loans after their arrests.
Gov. Martin O'Malley, a Democrat who is considering a Presidential bid, has given no indication if he would sign a decrim bill if it reaches his desk.
Photo of Del. Aisha Braveboy: Michael Key/Washington Blade