Massachusetts: 181 Apply To Open Medical Marijuana Dispensaries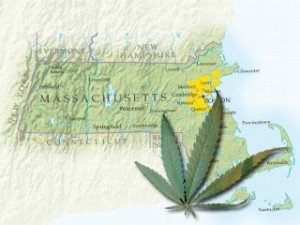 By Steve Elliott
Hemp News
The Massachusetts Department of Public Health was busy on Thursday as 181 people or groups of business partners submitted applications to open medical marijuana dispensaries, according to DPH Commissioner Cheryl Bartlett.
"We're glad that it was a highly competitive process and it will ensure patients' access to the medical use of marijuana in the commonwealth, Bartlett said, reports Lynn Jolicoeur at WBUR.
Thursday was the only day prospective dispensary operators could submit applications for the first phase of the approval process. A crowd showed up at DPH headquarters in downtown Boston, wheeling luggage or carrying boxes or large envelopes of paperwork.
Nearly two-thirds of the applicants may eventually be turned away, reports Chelsea Conaboy at The Boston Globe. Under the new medical marijuana law approved by Massachusetts voters last November, the state may license up to 35 dispensaries.
Bartlett said the DPH plans to choose the dispensaries before the end of this year after careful review, and it could take "several more months" before the dispensaries start actually providing marijuana.
"Today patients are one step closer to safely accessing their medicine," said Matt Allen, executive director of the Massachusetts Patient Advocacy Alliance, which advocated for last November's ballot question.
Applicants aren't required to state where they hope to operate in the first review phase. But they must clear a background check and prove their financial ability to open a dispensary by showing they have a least $500,000 to get started (goodbye, Mom and Pop businesses?) In mid-September, the DPH will announce which applicants have cleared the first phase.
Groups that clear the initial review will be invited to submit final applications, accompanied by a non-refundable $30,000 fee. A selection committee will score the final applicants, reports The Associated Press.
The second phase will include site re views and evaluations of dispensaries' ability to maintain a "secure facility" and meet patients' health needs. The applicants must secure local support, according to Bartletet, who said such support "will be among the factors" considered in the final selection process.
That could be difficult for some; several Massachusetts towns already preemptively banned the dispensaries before the state attorney general said towns can regulate the facilities, but not prohibit them altogether. Some towns have instead put a moratorium in place.
Some towns have indicated they are open to a dispensary opening, adjusting their zoning rules without a moratorium. Among them is Norwell, Mass., where operators of the nonprofit Mass Medi-Spa want to grow, process and sell medicinal cannabis products. If their plan makes it through the review process, they would also open a dispensary in Nantucket.
Rules adopted by the DPH will allow patients to get a 60-day supply of cannabis, defined as 10 ounces, though doctors can recommend that some acutely ill patients get more. Licensed dispensaries will pay an annual registration fee of $50,000.
The list of Phase I applicants to operate medical marijuana dispensaries can be accessed [PDF] by clicking here.