Massachusetts: 7 Doctors Warned By DEA For Being Involved With Medical Marijuana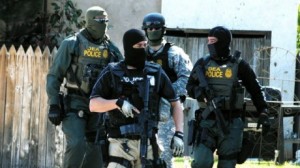 By Steve Elliott
Hemp News
Less than two weeks after the U.S. House passed a measure that would defund Drug Enforcement Administration raids on medical marijuana dispensaries, reports have begun to surface of DEA agents intimidating physicians trying to work with state-legal dispensaries in Massachusetts.
At least four more Massachusetts doctors recently received visits from the DEA agents, bringing to seven the number who got an unexpected ultimatum from the DEA for authorizing patients to use medical marijuana.
Federal investigators told the doctors they would have to "sever ties" with medical marijuana dispensaries or risk losing their license to prescribe medications, reports Kay Lazar at MThe Boston Globe.
Already, some doctors have been forced to resign their advisory positions with dispensaries, which Massachusetts voters agreed in 2012 to allow.
A spokeswoman at the DEA's headquarters in Washington, D.C., refused requests for an interview. The agency on Friday released a terse statement.
"It is not unusual for the Drug Enforcement Administration (DEA) to contact DEA registrants," the statement claims. "DEA enforces the Controlled Substances Act (CSA), and as a regulatory agency, it also ensures that those who are registered with the DEA to handle controlled substances -- including physicians, hospitals, and pharmacies -- are aware of their obligations under the CSA."
"It would not be appropriate to comment on specific interactions with registrants or any ongoig investigations," the unrevealing statement reads.
"I cannot think of a worse use of law enforcement resources than to undermine a democratically enacted law by intimidating professionals trying to ensure a program designed to help the sick operates as well as it possibly can," said Major Neill Franklin (Ret.), executive director of Law Enforcement Against Prohibition (LEAP), a group of law enforcement officials opposed to the war on drugs. "This is a gross example of the confused, immoral logic of prohibition gone awry, and frankly, it disgusts me."
"Medical marijuana dispensaries are not required to have medical advisors and these actions are likely to have a chilling effect," Major Franklin said. "They're not preventing the dispensaries from opening. They're merely preventing those who run them from doing all they can to ensure they're as safe and effective for patients as possible."
The doctors could face a host of related legal problems, according to Robert Carp, the Newton, Massachusetts-based attorney representing the four physicians contacted by the DEA in recent weeks.
The four are in addition to three previous doctors already identified by the Globe in an article that told of DEA agents visiting the homes and offices of doctors to deliver the threats.
Some of the doctors Carp represents, who are top administrators in companies approved by Massachusetts regulators for preliminary medical marijuana licenses, have loaned thousands of dollars to the companies for licensing and lease fees, purchasing equipment, and hiring staff, according to the attorney.
"They are faced with the choice that if they take the DEA at face value and leave, what happens to the contractual choices they have made?" Carp said. "Do they walk away as a physician, as an investor, or as an officer of the company?"
Carp said that if the doctors obey the DEA's demands and sever all ties -- including taking back the money they loaned -- they risk being sued by business partners who had depended on that money. Their departure could also leave the companies vulnerable to charges of misrepresentation from investors who had assumed the doctors would be involved, according to Carp.
He advised the doctors who had gotten visits from hostile DEA agents to ask for time to talk with their lawyer before deciding whether to disassociate themselves from the dispensaries, or to give up their federal license to prescribe narcotic opioid painkillers and other potent medicines.
Federal law prohibits marijuana for any purpose, but Massachusetts voters changed state law in 2012 to allow medicinal use of cannabis.
Courts, in cases such as Conant v. Walters, have already upheld the rights of doctors to recommend marijuana to their patients, establishing that the federal government must not interfere with the doctor-patient relationship. But it isn't clear whether doctors who serve in administrative roles in cannabis dispensaries are also protected.
Lawyers contacted by the Globe said they couldn't find any other cases where DEA investigators had threatened doctors involved in medical marijuana dispensaries in other states.
The American Medical Association is also unaware of any such previous cases, according to spokeswoman Randi Kahn, but the AMA is reviewing the issue further, she said.
Photo: Before It's News