Massachusetts: Bay State Repeal Hopes To Get Rid Of Marijuana Prohibition In 2016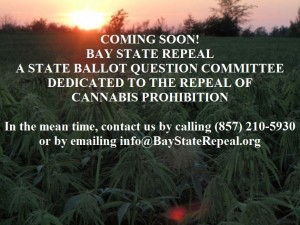 By Steve Elliott
Hemp News
Cannabis activists are working to put full marijuana law repeal before Massachusetts voters during the next presidential election, in 2016.
"We won't have to have it on the ballot again after we've finally repealed the prohibition," said activist William Downing, treasuer of ballot committee Bay State Repeal, reports Andy Metzger at MassLive.com.
Repeal, unlike legalization, doesn't create more laws around cannabis -- it repeals all those already on the books.
Massachusetts was the first state in the nation to restrict marijuana, according to Downing, prohibiting doctors from prescribing cannabis in 1913, well before federal marijuana laws were passed in 1937. Downing, an activist since 1989, said he sees parallels between the marijuana movement and the people who repealed alcohol prohibition.
Bay State Repeal wants to put non-binding "public policy" questions about getting rid of the marijuana laws before voters in 2014, before writing the binding language for the 2016 ballot as an initiative petition.
"A lot more people vote generally when there's a presidential election and we do better when a lot more people vote because this is a populist issue," Downing said.
Predictably, "family" and "anti-drug" groups oppose the measure.
"We will vehemently oppose any such effort" to legalize marijuana, said Kris Mineau, president of something called the Massachusetts Family Institute. The Institute has been steadily losing at the ballot box since 2008, when state vopters decriminalized possession of less than an ounce of pot.
Mineau, describing marijuana as "a slippery slope of a gateway drug," asked, "Is crack cocaine going to be next on the legislation list?"
"I don't really know much about other drugs," Downing responded. "Those aren't our issue."
The illegality of marijuana doesn't prevent people from using it, according to Downing, and makes people distrust the police, besides.
Mineau, meanwhile, rants about the past decade as a "horrific slope" and bemoans "sexuality" and "gambling" in addition to marijuana. "What are we?" he asks, working up a fine lather. "Are we Copenhagen all of a sudden? I hope not."
Bay State Repeal, according to a Thursday announcement, will work to create the "simplest and least restrictive plan for marijuana law reform focused on preventing non-medical distribution to children."
"We are America, and this is the land of the free, and we need to make sure that we remain free from intrusive government," Downing said.