Massachusetts: Boston Mayor Says He Will Block Medical Marijuana Dispensaries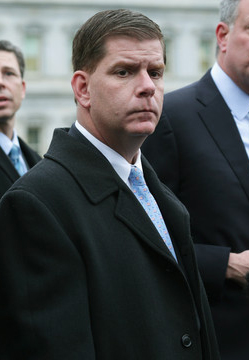 By Steve Elliott
Hemp News
Boston Mayor Martin J. Walsh this week moved to block the opening of two medical marijuana dispensaries in the city, saying he's "dead set" against the shops at a forum in Dorchester and then sending a letter to state officials urging "swift action" if any problems are found with the companies' applications.
"I am writing to express my serious concern regarding the two registered marijuana dispensary applicants in the city of Boston," the mayor wrote in a Tuesday letter addressed to Massachusetts Secretary of Health and Human Services John Polanowicz, and to Executive Director Karen Van Unen of the state's medical marijuana program, reports Meghan E. Irons at The Boston Globe.
Questions remain about the two companies, Mayor Walsh claimed. Green Heart Holistic Health & Pharmaceuticals Inc. wants to open a 3,000-square-foot dispensary at 70 Southampton Street, and Good Chemistry of Massachusetts Inc. plans a shop on Boylston Street.
The mayor urged "swift and uniform action" if inaccuracies are found in the applications, saying that would bolster confidence in the regulatory process.
"If any information provided in either application is confirmed to be inaccurate, I ask that the Department of Public Health immediately eliminate that application from being eligible for a final certification of registration," Mayor Walsh wrote.
The letter followed public comments the mayor on Monday during a community presentation. Walsh said he is "dead set" against marijuana dispensaries, has long opposed medical marijuana, and would prevent dispensaries in Boston.
"I have made it very clear to the state that I don't want these dispensaries in our city," the Mayor to about 200 people at Pleasant Hill Baptist Church, placing his personal opinions above the welfare of thousands of Boston patients.
"I'm dead set against legalizing marijuana," Mayor Walsh responded when asked by one person at the church how the city can "reduce drug dealing and violence" while also legalizing medicinal cannabis. "I was dead set against the marijuana dispensaries, and I was dead set against all the marijuana laws because they are dangerous," the dim-witted Walsh said.
The mayor claimed marijuana is a gateway, claiming he watched many of his friends who had "started smoking weed" go on to the hard stuff.
"You are going to work with us to make sure they don't get here," Rev. Miniard Culpepper, the church's pastor, asked, looking straight at the mayor. "Trust me," Walsh responded. You will be working with me to make sure they don't get here." The audience applauded.
But analysts say the mayor will have a tough time blocking the shops. With a medical marijuana law establishing the dispensaries already approved by a large majority of Massachusetts voters and the regulatory process underway, Walsh might be able to stall the shops' opening by using zoning laws, but he has little power to permanently ban the dispensaries, according to Jeffrey M. Berry, a political science professor at Tufts University.
"I don't see a clear power to prevent these stores," Berry said. "But certainly the thing the mayor can do is delay this and make their lives miserable."
Under the medical marijuana law approved by Massachusetts voters in November 2012, the state can select 35 nonprofit companies to open cannabis dispensaries in the state. The Massachusetts Department of Public Health in January gave preliminary approval for the first 20 licenses to operate dispensaries, including two in Boston.
Any delay causes needless suffering for patients, said Matthew Allen, executive director of the Massachusetts Patient Advocacy Alliance.
"A more sensible and compassionate approach that eliminating the Boston applicants at this point would be for the city to work with dispensary operators and community members to address concerns through ongoing collaboration, community engagement, and regulation," Allen said.
Photo of Boston Mayor Martin J. Walsh: Zimbio