Massachusetts Cracks Down On Medical Marijuana Caregivers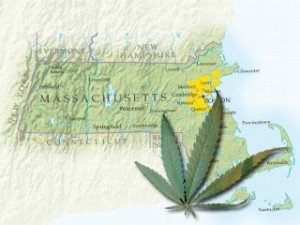 By Steve Elliott
Hemp News
The Massachusetts Department of Public Health is cracking down on the state's booming cottage industry of medical marijuana caregivers who have been selling cannabis to meet the demand created by the state's medical marijuana law, adopted 18 months ago.
The state has sent letters to more than 1,300 patients, along with 17 caregivers, warning them that state regulations may prohibit any caregiver from selling marijuana to more than one patient, according to David Kibbe, spokesman for the Department of Health, report Shelley Murphy and Kay Lazar at The Boston Globe.
The caregivers are the only legal avenue for Massachusetts patients to buy medical marijuana until storefront dispensaries start to open -- and that won't happen before November at the earliest. Many of the caregivers advertise on the Internet.
The action angered many patients who rely on cannabis to relieve their symptoms.
"I have been put in a terrible situation," said David Tamarin, 41, a lawyer from North Andover whose doctor authorized him to use medical marijuana for chronic back pain and anxiety. Tamarin said he was outraged by the letter telling him he had to find another caregiver -- one who was not serving any other patients.
"The legalization of medical marijuana should make it easier, not more difficult, for a patient to get his medicine," Tamarind said.
William Downing, Tamarind's caregiver and a longtime marijuana activist, owns Yankee Care Givers, based in Reading, which he estimated delivers cannabis to 1,000 patients. He said he had received a "cease and desist" letter warning him to stop operating as a caregiver to more than one patient.
Many of Downing's patients received letters from Karen van Unen, executive director of the health department's medical marijuana program, reading "Until dispensaries become operational, you may choose a new personal caregiver, or determine that you no longer require the services of a personal caregiver at this time."
The caregivers -- not the patients -- are violating the law, the letters said.
The rules allow patients with authorization from a doctor to grow their own cannabis or have a caregiver cultivate or obtain it for them, up to 10 ounces for a 60-day supply. Caregivers are limited to supplying one patient at a time, but patients, caregivers, and even some police officials say the rules are unclear and open to interpretation.
Scott Murphy, a 31-year-old Iraq veteran who uses marijuana to ease the pain of degenerative arthritis, said he believed Massachusetts' medical marijuana law is being misinterpreted. "They so easily say you can just find another caregiver or not use one at all," he said.
"It does not seem like a patient-centered approach," said Murphy, president of Veterans for Safe Access and Compassionate Care. "It is not that easy to grow your own, and that takes three or four months. This is not fair."
Downing said he will immediately stop selling marijuana, but he is asking patients to join him in a lawsuit against the state that will challenge its claim that he is breaking the law. "The one-patient-per-caregiver regulation is illegal," Downing said. "It's causing great harm."
Voters approved safe access to medical marijuana back in November 2012, but the state has failed to license any dispensaries, and the licensing process is behind schedule. Dispensaries had been expected to open this summer in Massachusetts, but the state didn't award provisional certificates until Friday, and it will take months for them to get set up, undergo state inspections, and grow their first crops of marijuana.
"DPH is more concerned with their regulations than they are with the well-being of the citizens of Massachusetts," Downing said. He said that since last year, he has been submitting a form signed by each of his patients designating him as their caregiver.
According to Downing, the one-patient-per-caregiver limit doesn't apply to him because state regulations say personal care attendants are exempt from that rule, and his business is defined as a personal services company.
According to the health department's Kibbe, regulators identified the caregivers and patients from letters sent to the health department to register with the state. The letters are just a warning for now, but notification will be required when the health department goes online with a planned system for tracking certified marijuana patients and caregivers.