Massachusetts: Former Congressman Wants To Open 3 Medical Marijuana Dispensaries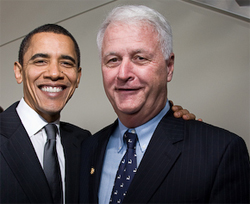 By Steve Elliott
Hemp News
Former U.S. Representative William D. Delahunt wants to get into the medical marijuana business. Delahunt, a former Congressman from Massachusetts and longtime Norfolk County District Attorney, has filed applications with the state to open dispensaries in Plymouth, Taunton and Mashpee.
Delahunt said that his past experience as both a district attorney (for 21 years) and as a member of Congress make him especially well-suited to operate medical marijuana dispensaries. He represented the former 10th Congressional District in Massachusetts for seven terms, from 1997 to 2011.
Massachusetts has received 100 applications to open dispensaries; the law limits the number to 35 statewide, including at least one per county, but no more than five, reports Patrick Ronan at the Quincy Patriot Ledger.
The Massachusetts Department of Health on Friday released information on the 100 applications for dispensaries it has received, including the applicants' names and the cities and towns in which they want to open stores. Massachusetts' medical marijuana law requires that all dispensaries be run by nonprofits.
The state will announce its final selections on January 31 for the 35 available licenses, according to spokesman David Kibbe.
Delahunt, now CEO of a nonprofit called Medical Marijuana of Massachusetts, said he has a team of medical professionals, law enforcement personnel and addiction specialists to help him create his dispensaries.
"We want to do this with the highest standards possible so we can establish a gold standard, if you will, across the state of Massachusetts," Delahunt said.
Massachusetts voters last year approved a ballot question to allow medicinal use of marijuana by patients with debilitating illnesses and authorization from their doctors. For the second phase of the dispensary application process, prospective operators needed to file a site-specific application with a letter of support from the community where the proposed facility will be located.
(Photo of President Obama and Rep. William Delahunt: That's My Congress)