Massachusetts: Medical Marijuana Patients Would Pay $50, Dispensaries $50,000 Annual Fee Under Plan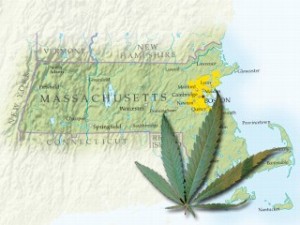 Dispensary Licenses Would Cost $50,000 A Year Under Department of Health Plan
By Steve Elliott
Hemp News
The Massachusetts Department of Public Health is proposing to charge medical marijuana patients $50 a year, and dispensaries an annual fee of $50,000.
Patients with a "verified financial hardship" would be allowed to request a waiver of the registration fee, subject to review and approval by the state health department, reports Kay Lazar of the Boston Globe.
Patients who qualify for a hardship license to cultivate (most patients won't be allowed to grow at home; all except those who are mobility challenged will be required to buy from dispensaries) would have to pay an additional $100 fee for the privilege, reports WCVB.
The proposed rules call for marijuana dispensaries to pay an initial $1,500 application fee, followed by a $30,000 charge for the second phase of the licensing process; both fees are nonrefundable, even if the application is denied.
Licensed dispensaries will then be required to pay an annual fee of $50,000. Dispensaries would also be required to pay a $500 annual registration fee for each of their employees.
The fees are supposed to create a "fee structure for a self-financed medical marijuana industry that supports patient access without relying on taxpayer resources," according to the state.
The law is designed to be "revenue neutral," reports Dan Ring of The Republican, meaning fees -- not tax dollars -- are supposed to pay for all costs to the state, including oversight and regulation, the health department said.
"The proposed patient registration fees are in line with other states and will be affordable," claimed acting state health commissioner Cheryl Bartlett. "At the same time, dispensaries will be required to pay their fair share."
The department said it would use the fees to hire staff and train inspectors to monitor dispensaries and cultivation sites.
On May 8, the Public Health Council approved regulations for the cultivation and dispensing of medical marijuana, and the registration of patients.
The law, approved by Massachusetts voters last November, allows for up to 35 dispensaries across the state to provide cannabis to registered patients suffering from qualifying medical conditions.
Dispensaries will set the prices that patients will pay for medical marijuana. The department of health will not regulate those prices. The shops, however, will have to come up with a plan for offering medicinal cannabis at no or reduced cost for some low-income patients.
Dispensaries could be licensed by the end of this year, and some of the shops might open early next year, according to Masslive.com.
Under the law, patients with certain "debilitating medical conditions" including cancer, glaucoma, HIV/AIDS or "other conditions" determined by a doctor can get a medical marijuana card and possess up to a 60-day supply of medicinal cannabis, defined under the law as 10 ounces.
A public hearing on the proposed fees is scheduled for Friday, June 14 at 1 p.m., at the Massachusetts Department of Public Health offices at 250 Washington Street in Boston.