Massachusetts: One-Third of State's Municipalities Have Medical Marijuana Moratoriums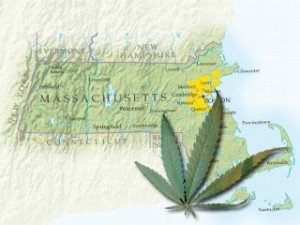 By Steve Elliott
Hemp News
Medical marijuana was very popular among Massachusetts voters, who, in overwhelming numbers last year, voted to make it legal. But it is less popular among state politicians; about one-third of the municipalities in Massachusetts have dispensary moratoriums in place.
An analysis shows that at least 115 of the state's 351 municipalities have passed temporary moratoriums on dispensaries, reports State House News Service. Other towns are considering similar measures, and still more have drafted new zoning laws restricting where the shops can locate.
"Personally, I am against it in my city, but since we can't not permit we have to make sure that we zone it in certain locations," said Lawrence City Council member Frank Moran. Lawerence was one of only two cities in the state that voted against medical marijuana last year (the other was Bellingham).
"The city of Lawrence, they spoke very loud and clear," Moran said. "They don't want it in the city."
But even towns where voters overwhelmingly approved the measure have taken steps to restrict access.
"We just wanted to make sure we had enough time with volunteers meeting only twice a month, to do this in a thoughtful manner," claimed Charlene Nardi, town administrator for Williamsburg, where nearly 80 percent of the voters approved medical marijuana. "There's no desire not to allow them," she said.
Nardi said Williamsburg's moratorium would end on June 30, 2014, and give the Planning Board time to write regulations for the new industry.
The large number of moratoriums indicates some reluctance among city and town officials, according to Massachusetts Patient Advocacy Alliance Executive Director Matthew Allen, who said such worries are unnecessary.
"I think those moratoriums are an indication of a lot of misperceptions of the dispensary system," Allen said. "I think it is appropriate for local municipalities to have a voice in the siting of dispensaries. Over the next few months, we're going to see a lot of discussions at the local level."
The law allows between one and five dispensaries in each of the state's 14 counties. Initial applications were submitted last month by 181 prospective dispensary operators.
The second phase of the application process includes more specific information regarding location and plans that the applicants "will be compliant with local codes, ordinances, and bylaws for the physical address," according to Department of Health regulations.
Massachusetts towns can't entirely ban medical marijuana dispensaries. Assistant Attorney General Margaret Hurley ruled that despite the power afforded municipalities to self-govern, towns cannot adopt a zoning bylaw that is "inconsistent" with a state law or creates a situation where the purpose of the law "cannot be achieved in the face of" the local rules.
Towns are, however, allowed to establish "temporary moratoriums" to "impose reasonable time limitations on development" while planning regulations, Hurley wrote.
In March, Massachusetts Attorney General Martha Coakley disallowed attempts by the towns of Reading and Wakefield to place outright bans on dispensaries. But neither the attorney general's office nor the DPH were able to provide a list of cities that have created moratoriums or zoning ordinances.
Springfield is the biggest city in the state to have a dispensary moratorium. In the Boston area, Cambridge has a moratorium, Somerville is considering one, Quincy and Chelsea have zoning ordinances and Newton has no moratorium.
"I think our view is that properly sited and regulated, these should be about the same level of concern as people who sell tobacco," said Betsy DeWitt, chairwoman of the Board of Selectmen in Brookline, which has a moratorium. "We do not want them across the street from a public school."
DeWitt suggested that dispensaries could possibly be sited alongside other healthcare facilities.