Oregon: Naturally Advanced Technologies and Carhartt Enter Into Development Agreement
Naturally Advanced Technologies Inc. develops renewable and environmentally sustainable biomass resources from flax, hemp and other bast fibers.
By Michael Bachara, Hemp News Correspondent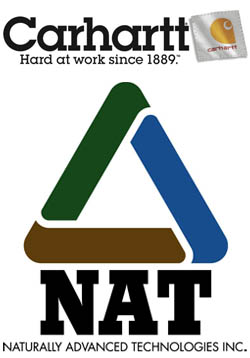 Naturally Advanced Technologies Inc. (NAT) announced that it has entered into a short-term Crailar Flax fiber development agreement with Carhartt to support evaluation of processing Crailar Flax fiber in premium grade work wear.
Established in 1889 and based in Dearborn, Michigan, Carhartt is a global work wear brand with a heritage of developing rugged apparel for workers on and off the job.
"Carhartt aligns perfectly with our current portfolio and we are excited to add them to our growing mix of partner brands," said Ken Barker, CEO of Naturally Advanced Technologies.
"Our testing to-date has demonstrated significant qualities that will be beneficial to the work wear market, including increased tensile strength, reduced shrinkage and high dye uptake that can reduce chemical usage," Barker continued.
"Perhaps most important is Crailar's ability to wick moisture, which provides Carhartt with a performance advantage by ensuring consumers stay cooler in hot summer months. We look forward to demonstrating this during our development period with Carhartt," explained Barker
This year alone, NAT has signed development or purchasing agreements with HanesBrands, Levi Strauss & Company, Georgia-Pacific, Westex, Cintas Corporation, Ashland Inc. and Brilliant Global Knitwear.
In a time of economic stall, it is refreshing to see that companies in the United States are looking toward new innovations, such as using flax, in their products.
If US farmers could grow hemp, US companies could expand their products into that arena more fully and we would truly begin to see the benefits of reintroducing hemp into our economy.
To learn more about their company, experience http://www.naturallyadvanced.com/s/Home.asp