Nebraska: No Industrial Hemp Crop This Year; Maybe Next Time?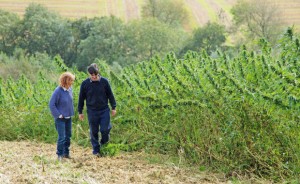 By Steve Elliott
Hemp News
Nebraska won't be harvesting a legal hemp crop this fall, despite the Legislature's passage of a law allowing the cultivation of industrial hemp for research. State bureaucrats at the Nebraska Department of Agriculture are still working on the rules.
The bill in question, LB 1001, tasked the state agriculture department with devising rules and regulations for hemp cultivation in the Cornhusker State, reports Nicholas Bergin at the Lincoln Journal Star. The department is still researching hemp programs in other states, but won't have their ducks -- or maybe I should say hemp plants -- in a row in time for spring planting.
"There will be no hemp research projects initiated under a program this year," said spokeswoman Christin Kamm of the Nebraska Department of Agriculture. Kamm didn't say when the first crop might be planted.
The industrial hemp bill, which passed overwhelmingly on a 39-2 vote, will allow the University of Nebraska and the Nebraska Department of Agriculture to grow hemp, a variety of cannabis that unlike recreational marijuana does not contain enough THC (tetrahydrocannabinol) to produce a high.
Some faculty members at the University of Nebraska are definitely interested in cultivating industrial hemp, and have informally met with Nebraska Agriculture Department officials in that regard, according to David Jackson, associate dean of Nebraska-Lincoln's Agricultural Research Division.
State industrial hemp cultivation is now legal federally under a small exception carved out by the 2014 federal Farm Bill. Under the new rules, state agriculture departments and universities can cultivate industrial hemp for research purposes in states that allow hemp farming.
Nebraska is one of a dozen states that allows hemp cultivation. The others are California, Colorado, Kentucky, Indiana, Maine, North Dakota, Oregon, Utah, Vermont and West Virginia.
Most commercial sources for the seeds of low-THC industrial hemp varieties are located outside the United States, due to the forced extinction of the hemp industry here after World War II. The Controlled Substances Act makes no distinction between the high-THC marijuana varieties of the plant and the low-THC hemp varieties, considering them both Schedule I drugs.
Of course, if agriculture department officials or university professors are truly interested in obtaining heirloom genetics of feral hemp in the United States, they have but to visit the roadsides and fields of many Midwestern counties, where the descendants of formerly cultivated industrial hemp still grow wild.
U.S. Agriculture Secretary Tom Vilsack said last week that he's "trying to work" with the Justice Department to allow the importation of hemp seeds. He said large-scale industrial hemp cultivation in the U.S. represents an "extraordinary income opportunity."
Vilsack said he's discussed the hemp issue with U.S. Atty. Gen. Eric Holder.
Industrial hemp has hundreds of uses ranging from food to plastics to fuel to building materials to beauty products. Last year, hemp products, including food, clothing, auto parts and building materials, had sales exceeding $581 million in the U.S., according to the Hemp Industries Association.
Much of that hemp originated in Canada, since U.S. law hasn't yet reached the 21st century. Canada's profitable hemp crop has grown steadily in recent years, hitting 66,700 acres in 2013, according to Health Canada.
Hemp's ability to produce biomass is second only to bamboo, according to Mark Pluta, chief operating officer for BastLab, an Omaha company developing processing solutions for bast fiber crops like industrial hemp and flax.
Photo: 420 Magazine