New Hampshire: Majority Of Granite State Adults Support Legalizing Marijuana, Regulating It Like Alcohol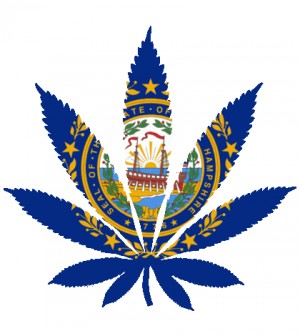 New Granite State Poll Shows Growing Majority of New Hampshire Adults Support Making Marijuana Legal and Regulating It Like Alcohol; Three Out of Five Support the Decriminalization Bill Currently Moving Through the State Legislature
UNH-WMUR survey finds 55% think marijuana possession should be legal — up from 53% in 2013 — and 61% support HB 1625, which would reduce the penalty for possession of limited amounts of marijuana to a $100 civil fine
The annual WMUR Granite State Poll released Wednesday by the University of New Hampshire Survey Center shows a growing majority of New Hampshire adults support making marijuana legal and regulating it like alcohol.
The survey found 55 percent percent support making possession of small amounts of marijuana legal in New Hampshire — up from 53 percent in 2013 — and 67 percent approve of marijuana being sold in licensed retail outlets and taxed at levels similar to alcohol if marijuana possession becomes legal.
"Marijuana prohibition has been an ineffective and wasteful policy," said Matt Simon, the Goffstown-based New England political director for the Marijuana Policy Project (MPP). "Voters are increasingly becoming fed up with it, and they're ready to replace it with a more sensible system in which marijuana is regulated and taxed similarly to alcohol."
The poll also found that three out of five New Hampshire adults (61 percent) support House Bill 1625, a measure approved by the State House of Representatives and now being considered by the Senate that would reduce the penalty for possession of up to one ounce of marijuana to a $100 civil fine. Currently, possession of any amount of marijuana is a misdemeanor punishable by up to one year in prison and a fine of up to $2,000.
New Hampshire is bringing up the rear in progressive marijuana policies. The Granite State is the last in New England that still treats simple marijuana possession as a criminal offense with the potential for jail time.
"Using taxpayer dollars to criminalize people for marijuana possession is not a popular idea in New Hampshire," Simon said. "How can anyone defend a law that subjects people to potentially life-altering criminal penalties simply for using a less harmful substance than alcohol? It's irrational, it's counterproductive, and it's time for it to change."
The poll of 510 randomly selected New Hampshire adults was conducted March 24-April 1 and has a margin of error of plus or minus 4.3 percent. The entire poll is available at http://cola.unh.edu/survey-center/most-granite-staters-support-changes-s....