New Hampshire: One Year After Medical Marijuana Law, Patients Still Risking Arrest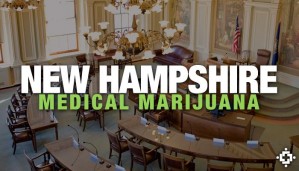 On Wednesday — the first anniversary of Gov. Hassan's signing of H.B. 573 — Rep. Donald 'Ted' Wright will join patients and advocates at a demonstration in front of the State House
One year after New Hampshire adopted a law intended to allow seriously ill people to use medical marijuana, patients are still facing criminal penalties for marijuana possession.
On Wednesday — the first anniversary of Gov. Maggie Hassan's signing of H.B. 573 — Rep. Donald "Ted" Wright (R-Tuftonboro) will join patients and advocates at a demonstration in front of the New Hampshire State House to discuss a list of grievances and requests to the governor. Patients will then deliver the list to Gov. Hassan's office.
The list of grievances and requests is pasted below and available online at http://mpp.org/NHgrievances.
"Patients have nothing to celebrate on the first anniversary of New Hampshire's medical marijuana law," said Matt Simon, the Goffstown-based New England political director for the Marijuana Policy Project (MPP). "Implementation of the program has been beset by needless delays, and people with debilitating conditions still face criminal penalties for possessing any amount of marijuana. This situation is unacceptable.
"We're fed up with state officials' stonewalling," Simon said. "It's time to start listening to the seriously ill people the medical marijuana law was intended to help."
WHAT: Demonstration and rally to raise awareness about delays facing New Hampshire's "Therapeutic Use of Cannabis" program
WHEN: 9:30 a.m. ET, Wednesday, July 23
WHERE: In front of the New Hampshire State House, 107 N. Main St., Concord
WHO: Rep. Donald "Ted" Wright
Matt Simon, MPP New England political director
New Hampshire patients and advocates
Patients' Ten Grievances and Requests — July 23, 2014*
#10 — No legal protection — Patients will have no protection from arrest until ID cards are issued, and the Attorney General's office has advised the Department of Health and Human Services (DHHS) not to issue ID cards until the first dispensary opens. Governor Hassan, since you insisted on patients not having any legal protection until ID cards are issued, please urge DHHS to ignore the AG's deeply flawed legal opinion and move forward with issuance of ID cards, as legislators intended.
#9 — No urgency on dispensaries — One year after the signing of HB 573, DHHS still has not managed to produce a first draft of the rules that will govern dispensaries. Governor Hassan, please tell these administrators to get serious and begin implementing this law more swiftly.
#8 — Removal of PTSD — Many patients suffering from post-traumatic stress disorder (PTSD) report significant benefits from using cannabis. These patients include military veterans and victims of violent crime, and such patients can now qualify under the laws of 10 states, but not in New Hampshire. Governor Hassan, please withdraw your opposition to allowing PTSD as a qualifying condition.
#7 — No case-by-case approval — Unlike other state laws, New Hampshire's law requires both a listed symptom and a listed condition to qualify. The Attorney General's office has advised DHHS to ignore the law's "case-by-case approval" language that would allow providers to certify patients with rare conditions or unique circumstances. As a result, rules have been adopted that will exclude patients with compelling needs, including those suffering from epilepsy. Governor Hassan, if you are re-elected, please support efforts to improve this law and allow patients with compelling circumstances to qualify.
#6 — Unreasonable requirements for providers — DHHS has adopted rules that exceed its statutory authority by requiring providers to justify their certifications by handing over medical records. Governor Hassan, please begin to recognize that cannabis is less harmful than prescription drugs, such as OxyContin, and that it is insane to discourage providers from recommending a less harmful alternative.
#5 — Unreasonable requirements for patients — Under New Hampshire's medical marijuana law, it is a crime to possess cannabis in "Drug Free Zones." This means a patient living within such a zone — or even driving through such a zone — would not be legally allowed to possess or use cannabis, even in the privacy of his or her own home or vehicle, and even if the cannabis is not smoked. It also means any patient or caregiver transporting cannabis within two or three blocks of a school would be inadvertently committing a crime. The law also includes an absurd requirement that patients must have written permission before they can consume cannabis on another person's property. Governor Hassan, please support removing these unique and burdensome restrictions so patients can obtain cannabis from dispensaries and transport it to their homes without risking an unreasonable arrest.
#4 — Opposition to reducing penalties — New Hampshire is the only state in New England where simple possession of marijuana remains a crime punishable by possible jail time. Reducing penalties would reduce patients' and their family members' exposure to the criminal justice system if they possess cannabis for therapeutic purposes, including while they wait for ID cards to become available. Governor Hassan, please withdraw your opposition to reducing marijuana penalties to a violation.
#3 — Police Chief on Advisory Council — The first person appointed to serve as "a member of the public" on the Advisory Council was Tuftonboro Chief of Police Andrew Shagoury. Chief Shagoury was one of the leading opponents of allowing patients access to cannabis, and his opposition to the interests of patients continues. The Legislature has since voted to give the police chiefs' association its own spot on the council, but patients are afraid that yet another opponent will be appointed to represent the public. Governor, please acknowledge the overwhelming public support for this program and appoint a public representative who will not advocate against the interests of patients.
#2 — No patient representative on Advisory Council — The first patient appointed to the Advisory Council has not attended a single meeting. This is unacceptable. Governor Hassan, please appoint a qualifying patient who supports the implementation of this program and one who is willing to attend meetings and represent the interests of patients.
#1 — Home cultivation by patients remains a felony — Patients know that if they lived in any neighboring state, they could legally grow their own plants. Governor Hassan, please withdraw your opposition to allowing limited home cultivation by patients and caregivers.
*These are not in any particular order but are numbered for ease of reference.