New Hampshire: Report Details Collateral Consequences Associated With a Marijuana Conviction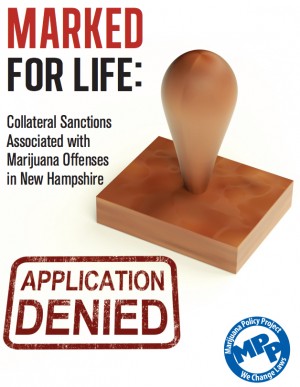 Advocates call on members of the House of Representatives to add House-approved decriminalization measure to one or more Senate bills; HB 1625 would have eliminated criminal penalties for possession of small amounts of marijuana
The Marijuana Policy Project on Tuesday released a report detailing the collateral consequences associated with a marijuana conviction in New Hampshire. The organization urged members of the State House of Representatives to revive a measure that would decriminalize possession of small amounts of marijuana.
The report, "Marked for Life: Collateral Sanctions in New Hampshire," was released in an email to legislators, and copies were presented to House leaders, Senate leaders, and Gov. Hassan's office. A PDF of the report is available at mpp.org/NHMarkedForLife.
"A misdemeanor conviction can absolutely follow a person for the rest of his or her life," said Mark Sisti, a Concord-based criminal defense attorney. "All five other New England states have eliminated criminal penalties for simple marijuana possession and replaced them with a civil fine. New Hampshire should do the same."
Advocates are calling on members of the House to attach the language of a widely supported marijuana decriminalization bill to one or more bills that have been approved by the Senate. The House passed HB 1625 with more than a two-thirds majority (215-92), but the Senate refused to accept the bill from the House.
The measure, introduced by Rep. Adam Schroadter (R-Newmarket), would have eliminated criminal penalties and the possibility of receiving a criminal record for possession of one ounce or less of marijuana. It would have also reduced maximum penalties for other marijuana offenses, including reclassifying cultivation of up to six marijuana plants as a misdemeanor instead of felony.
Currently, possession of any amount of marijuana is a misdemeanor punishable by up to one year in prison and a fine of up to $2,000.
"The Senate wasn't willing to listen this year, but House rules allow representatives to continue pushing for this sensible reform in 2014," Simon said. "We encourage them to do so.
"It's not only common sense, it's what the voters want," Simon said. "Granite Staters are tired of seeing their tax dollars and the state's limited law enforcement resources wasted on arresting and prosecuting marijuana users."
Three out of five New Hampshire adults (61 percent) support HB 1625, according to an annual WMUR Granite State poll released in April by the University of New Hampshire Survey Center.