New Hampshire: Senate Committee Votes To Deny Patients Legal Access To Medical Marijuana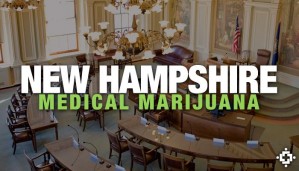 Senate Health, Education, and Human Services Committee fails to pass bill that would allow limited home cultivation until patients have state-legal access through dispensaries
The New Hampshire Senate Health, Education, and Human Services Committee on Tuesday morning failed to take decisive action on a bill that would provide licensed patients with legal access to medical marijuana while the state develops a system of regulated cultivation and distribution. Instead, the committee voted 3-1 to refer the bill for "interim study."
Sponsored by Rep. Donald "Ted" Wright (R-Tuftonboro), HB 1622 would allow licensed medical marijuana patients or their designated caregivers to possess up to two mature marijuana plants and 12 immature plants or seedlings. Patients and caregivers would be required to report their cultivation locations to the Department of Health and Human Services, and they would lose their ability to cultivate once an alternative treatment center opens within 30 miles of their residence.
HB 1622 passed the House in a 227-73 vote March 6. If the Senate upholds the committee recommendation of interim study, patients will likely continue to have no legal protection until alternative treatment centers open, which could take another year and a half or more.
An amendment proposed by Rep. Wright would have added a sunset provision, repealing the home-grow option when the fourth alternative treatment center opened. Senators decided against this option in a 3-1 vote, with Sen. John Reagan (R-Deerfield) the lone dissenting vote.
"Passing HB 1622 is the only way to make New Hampshire's medical marijuana law workable for patients in the here and now," said Matt Simon, the Goffstown-based New England political director for the Marijuana Policy Project (MPP). "Sadly, Gov. Hassan and a number of senators are still putting the opinions of a few police chiefs ahead of the needs of seriously ill patients."
"Patients know that if they lived in Vermont, Maine, or Massachusetts, they could be legally growing their own cannabis today, but if they do so in the 'Live Free or Die' state, they would be risking a felony conviction," Simon added. "From the patients' perspective, this is simply unconscionable."