New Jersey: Medical Marijuana Program Struggling Under Rigid Rules, High Costs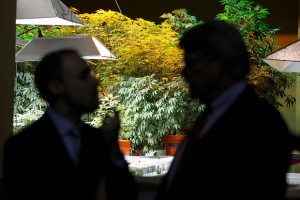 By Steve Elliott
Hemp News
When New Jersey's medical marijuana law was being written and passed, it was often boasted that it was "the strictest in the nation," as if serving fewer patients was somehow something to brag about. Now, after initial predictions that the program could serve tens of thousands of patients, only 2,342 have signed up, a participation rate so small some worry about the future of the program.
Lawmakers, some dispensary operators and patients blame the low enrollment on New Jersey's strict rules, high costs for both patients and growers, and Governor Chris Christie's barely concealed hostility to the program, including his contention that he doesn't need to do anything to boost participation, reports Susan K. Livio at The Star-Ledger.
One major roadblock, according to almost everyone involved, is that so few physicians in New Jersey are willing to authorize patients for medical marijuana.
"We have a dysfunctional program, and I think it's going to take some sort of 'pot summit' bringing together patients, doctors and legislators to really make this a success," said Assemblyman Reed Gusciora (D-Mercer), one of the lead sponsors of the law.
"We are hearing more and more anecdotal evidence that dispensaries are not sustaining themselves, the quality (of the marijuana) is not always there, and it's difficult for doctors and patients to get into the program," Gusciora said. So much for the "strictest program in the nation"!
Gusicora said while he has "every faith" in New Jersey Health Commissioner Mary O'Dowd, "there is so much reticence on the [Christie] administration's part, I don't know how you break that logjam. All they have to do is open their eyes."
While enrollment in the program has doubled in the past year, as two of the state's three licensed medical marijuana dispensaries opened for business, it's still nowhere near the 5,000 to 30,000 patients advocates said they anticipated when the law was passed. Many dispensary owners, looking at the state's disease statistics, expected at least 50,000 patients.
"We thought we would have 10,000 patients by now," said Yale Galanter, attorney and spokesman for the Woodbridge-headquartered Garden State Dispensary, which has served just 1,700 patients since opening six months ago.
Meanwhile, the Compassionate Care Foundation in Egg Harbor Township, which opened in October after getting a state-backed loan, says it needs 2,000 patients to break even -- and it only has 600. The owners said large amounts of cannabis are going to waste, and they've put plans for expansion on hold.
Last week, Compassionate Care Foundation chief operating officer Bill Thomas quit, saying he could no longer work without getting paid.
"It's failing," Thomas said a few days before he resigned on Monday. "From a business standpoint and from a patient standpoint, it's not successful."
"I have been basically volunteering for three years and now I have to find a paying position," Thomas said.
"The governor says why change anything if (patients) haven't shown up," Thomas said. "Is there really no demand, or is it so hard to get access that it is easier to buy from the high school kid down the street? It's not like the people don't get it another way."
Just 296 of New Jersey's 21,000 licensed physicians have signed up to authorize patients for medical marijuana under the program. Many doctors don't want their names on the state's website, according to Gusciora. Doctors in the program report they get calls from people diagnosed with illnesses they don't treat, as well as from others who don't qualify for the program.
Other doctors become more wary about joining the program as word spreads. Given the stigma still surrounding marijuana -- which is still a Schedule I controlled substance under federal law -- some doctors fear they'll lose patients or alienate their practice partners if they become "associated with marijuana."
Betty Rand, an 89-year-old homebound stroke patient from Millburn, said medical marijuana eases her pain and muscle spasms, but would be easier to use if she could get it in lozenge form. But New Jersey dispensaries don't offer lozenges or any edible products yet. The Health Department is reviewing plans for making them from the Woodbridge dispensary, and the Egg Harbor shop said they can't afford the expense of developing a new product.
Rand said the New Jersey medical marijuana program is "a job they've half-done and are not finishing right. They are not making an effort, and as long as Christie is there, he is not going to do it."
Photo: Dispensary executives inside the sprawling Garden State Dispensary, New Jersey's third medical marijuana shop, located in Woodbridge. Photo by Andrew Mills/The Star-Ledger