New York: Advocates Say Medical Marijuana Could Be Legalized This Spring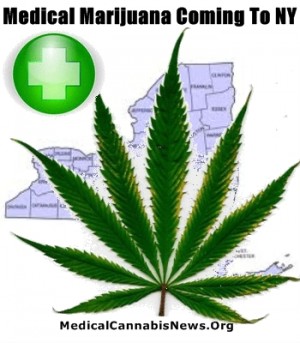 By Steve Elliott
Hemp News
It's been a tough fight in New York for medical marijuana. Time after time, advocates and patients believed they were on the brink of victory, only to be disappointed. But medicinal cannabis may finally be a dream that is coming true in the Empire State, and the change may come soon, according to advocates.
Pointing to favorable opinion polls and an evolving position from the office of Gov. Andrew Cuomo, proponents believe a new medical marijuana bill will be approved in Albany this spring, making New York the 22nd medical marijuana state, reports Glenn Blain at the New York Daily News.
"We're closer to this than we have ever been before," said gabriel sayegh of the Drug Policy Alliance (DPA).
Advocates have revised the bill to more tightly control how marijuana can be used, and who gets to use it. The new version, introduced on Friday, removed language that gave doctors the freedom to authorize medical marijuana for a wide array of symptoms.
The new version limits pot's use to about 20 serious conditions, including cancer, traumatic brain injury, AIDS, Parkinson's disease, multiple sclerosis and post-traumatic stress disorder. It also prevents anyone under 21 from being able to smoke marijuana for medicinal purposes, though they could be authorized to use other forms of cannabis, such as tincture or capsules.
Anyone with a felony narcotics conviction wouldn't be allowed to work in a dispensary under the bill.
The changes grew out of conversations with fellow lawmakers who feared medical marijuana legalization would somehow lead to "widespread abuse," said bill sponsor Diane Savino (D-Staten Island). Savino believes the new restrictions will -- you guessed it! -- give New York "the most tightly regulated medical marijuana system in the country," which has become an annoying phrase we hear every time a new state passes a medical marijuana law, as if making cannabis available to fewer patients is somehow a good thing.
The bill would give New York a "seed-to-sale" system of marijuana control similar to Colorado's. Advocates argue it would also give the state million of dollars in new tax revenue.
It is unclear whether the new revisions will be enough to persuade key Senate leaders, including Republican leader Dean Skelos and Health Committee Chairman Kemp Hannon, a fellow GOP Senator from Long Island, to allow a vote.
Time after time, medical marijuana bills have passed the Democrat-controlled New York Assembly only to stall in the more conservative, Republican-controlled Senate.
"We have not seen the revisions and will review them," hem-hawed non-answering Senate GOP spokesman Scott Reif. "Like the governor, we are taking a cautious approach."
Other Republicans didn't want anything to do with this medical marijuana stuff. "To me it's just the camel's nose underneath the tent for the legalization of marijuana," said charming ignorant state Sen. Martin Golden (R-Brooklyn).
Gov. Cuomo has said he would "review" whatever the Legislature approves before deciding whether to sign it.
A Siena College poll released on Tuesday found 51 percent of New York voters support the widespread legalization of medical marijuana, with another 25 percent favoring Gov. Cuomo's limited (non-workable) plan. Only 21 percent said marijuana should remain illegal, even for medical purposes.