New York: Federal Judge Rules Stop-and-Frisk Policy Unconstitutional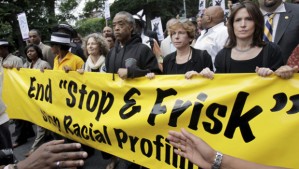 By Steve Elliott
Hemp News
The controversial "stop-and-frisk" tactics of the New York Police Department violate constitutional rights and must be changed, a federal judge ruled on Monday.
The ruling, from Judge Shira A. Scheindlin, results from a class-action lawsuit alleging that NYPD officers routinely stop minority men, particularly blacks and Latinos, without legally defensible reasons, reports CNN.
An outside monitor will be appointed to oversee changes to the NYPD policy, Judge Scheindlin said.
The police had claimed the controversial policy -- in which police stop, question and search people they consider "suspicious" -- helps to deter crime, but the practice is widely criticized, especially because of its use primarily against minorities.
The lead plaintiff in the case is medical student David Floyd, who was stopped twice, once in the middle of the afternoon in front of his Bronx home, according to the 2008 lawsuit.
The trial, featuring nine weeks of testimony, ended in May. It featured testimony both from police officers who say quotas "forced" them to make unnecessary stops, and from men who say police stopped them for no reason.
While attorneys for New York City claimed that one man was stopped because he "appeared to be smoking marijuana," the plaintiffs' attorneys argued that he was simply talking on a cell phone.
The NYPD logged its 5 millionth stop-and-frisk under Mayor Michael Bloomberg in March, according to the New York Civil Liberties Union.
(Photo: Lenox Avenue Attorneys)